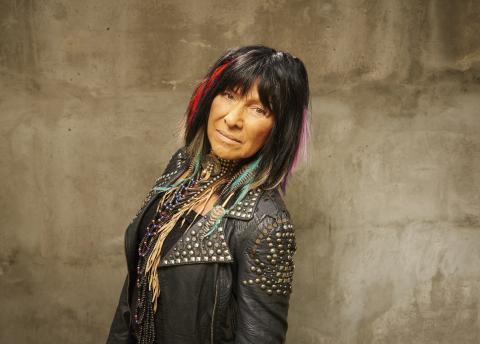 Buffy Sainte-Marie, a musical trailblazer renown for many musical and altruistic causes, is the 10th recipient of the Allan Slaight Humanitarian Award.
The innovative singer and songwriter will be honoured for a 60-year career that has encompassed her life as an activist, philanthropist and educator.  She will be feted during Canadian Music Week at the annual Canadian Music and Broadcast Industry Awards Gala at the Bluma Appel Theatre in Toronto on May 21.
"Buffy Sainte-Marie sets the bar for everything the Allan Slaight Humanitarian Spirit Award stands for," said Gary Slaight, CEO and president of Slaight Communications/Slaight Family Foundation, in a statement.
"For her, worldwide success and the status of music legend was not a personal goal, but an opportunity – an opportunity to try to right wrongs, an opportunity to give back to the planet, and an opportunity to alter the course of Indigenous lives through education."
Added Canadian Music Week president Neill Dixon: "We are proud to take part in honouring Buffy Sainte Marie for her lifelong generosity of spirit. There are few international stars so firmly grounded in their roots, and so committed to upholding their cultural history, onstage and off. A generation of educated and aware First Nations youth have her to thank as they carry that history forward."
Assumed to hail from Saskatchewan's Piapot Plains Cree First Nation Reserve in the Qu'Appelle Valley – the artist herself is unsure of her geographic origin - Sainte-Marie was adopted by American parents and raised in Massachusetts.
Emerging in the '60s folk music era, Sainte-Marie composed such popular songs as the anti-war anthem "Universal Soldier" and the romantic "Until It's Time For You To Go," and her material has been covered over the years by the likes of Janis Joplin, Elvis Presley, Donovan, Céline Dion, Barbra Streisand  - and of course, her Oscar-winning, chart-topping co-write "Up Where We Belong" sung by Joe Cocker and Jennifer Warnes. In the '70s, she invented the "powwow rock" genre.
In 1969, she recorded Illuminations, the first quadrophonic vocal album – the same year she founded the Nihewan Foundation for Native American Education, "a small private non-profit foundation dedicated improving the education of and about Native American people and cultures. Nihewan's focus is to help Native American students to participate in learning, while also helping people of all backgrounds learn about Native American culture."  She was also the first First Nations regular to appear weekly on Sesame Street from 1975-1980, as well as the first person to breastfeed on national television.
The Buffy Sainte-Marie legacy includes a slew of awards and honours, ranging from the Order of Canada and the previously mentioned Academy Award, to induction to the Canadian Songwriters Hall Of Fame, the Canadian Music Hall of Fame, the Allan Waters Humanitarian Award (awarded by CARAS at the Juno Awards), a Golden Globe Award, four Juno Awards, a BAFTA Film Award, the Canadian Country Music Hall of Fame and also received the Governor General's Performing Arts Award, the International Folk Music Awards' People's Voice Award – and in 2015, won the Polaris Music Prize for her album Power in the Blood.
Most recently, she has advocated The Creative Native Project, a mentorship program that inspires and empowers Indigenous youth to explore the field of creative arts and live production via community arts weekends.
Sainte-Marie is also about to add "author" to her impressive credentials, as Greystone Books will publish Hey Little Rockabye, an illustrated children's book about pet adoption, in May 2020.
Air Force 1