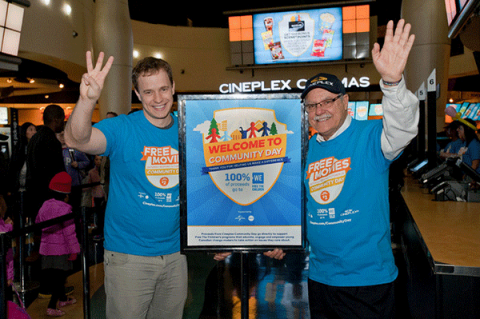 Going to the movies is not always affordable for families, but this Saturday, Oct. 22, is one day where you won't even mind the price of popcorn. In fact, you'll want to pay for it. Cineplex Community Day will be celebrated at select theatres across the country.
Cineplex will present a selection of family films free of charge. The films include The Good Dinosaur, The Jungle Book, The Finest Hours, Inside Out and Zootopia. On top of that, snacks such as popcorn, drinks and candy will cost only $2 each.  Proceeds will go to Free The Children's WE Charity.
WE Charity is, according to the website, is "an international charity that partners with communities to help lift themselves out of poverty using a holistic, sustainable five-pillar development model."
To that end, WE Charity have created a sustainable international development model which tackles the root causes of poverty. Called "WE VIllages," the program focuses on five "pillars"  — education, water, health, agriculture and opportunity.  Communities take ownership of the programs, so that the work is sustainable and the changes in the community are long-lasting. WE Charity is currently active in Kenya, India, Ecuador, Nicaragua, Haiti, Sierra Leone, and rural China.
WE also encourage direct action and engagement. For example, people can take the "WE Pledge," a commitment to making a difference each and every day. When you take the WE Pledge and join the WE Community, $10 — up to a total of $1 million — will be allocated to WE Schools programs and WE Villages overseas.
"We know that change starts with each of us," it reads on the WE website. "Pledge to Live WE in your life and in your way. Commit and come together to be stronger and make a deeper impact...Anyone can make a difference. We believe in the democratization of impact. There are myriad ways to participate both through giving back and our daily choices. We believe in the inclusive nature of doing good and that anyone can apply their individual passion to a collective world-changing impact."
To support WE Charity, simply buy your $2 snacks at the concession during the event. You can also further support WE Charity when you purchase a $2 Change Bracelet at the Cineplex box office.
Cineplex Community Day begins at 8:30 a.m., with free film screenings beginning between 9 a.m. and 10 a.m. For theatres and showtimes, see the Cineplex website.
Air Jordan 1 Retro High OG Wmns "Panda" CD0461-007 Women/Men Super Deals, Price: $98.03 - Air Jordan Shoes