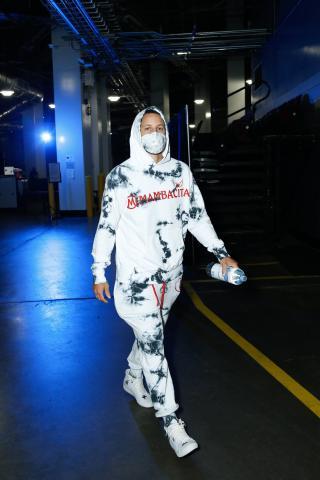 Vanessa Bryant, who lost her retired basketball star husband Kobe and 13-year-old daughter Gianna in a Jan. 26, 2020 helicopter crash, has launched a clothing line with designer DANNIJO in her daughter's honour to benefit the Mamba & Mambacita Sports Foundation.
The foundation bears the nicknames of Kobe and Gianna, who was also called Gigi, The non-profit organization provides funding and sports programming for underserved athletes and young women to enable their participation in school and/or league sports that enrich their socio-emotional and physical development.
"Gianna was kind, energetic, a leader, and had so much MAMBACITA swag," Bryant wrote on her Instagram page on May 1, which would have been Gianna's 15th birthday. "When I thought about who would help me capture her laid back yet girly-edge, I thought of female-owned @DANNIJO. 
"Two fun-loving sisters running a successful clothing line, they jumped on the opportunity to celebrate Gigi's birthday with us, completely pro-bono."
DANNIJO, founded in 2008 by sisters Danielle and Jodie Snyder, creates jewelry, clothing and accessories.
The initial release of the limited-edition MAMBACITA x DANNIJO tie-dye sweat set includes purple and black hoodies, sweat pants and masks for adults and children, which can be seen here, is already sold-out. The hoodies feature "#PlayGigisWay" on the right arm in recognition of the young basketball player's shooting arm.
All of the proceeds from the clothing line's sale will support the Mamba & Mambacita Sports Foundation.
"Gigi was especially motivated to change the way everyone viewed women in sports, and it's fitting that this capsule represents her values," wrote Bryant.
A number of celebrities were quick to embrace the clothing line and post photos of themselves wearing it through social media channels, including Eva Mendes, Kate Hudson, Jimmy Kimmel, Ciara, Jennifer Garner, Kim Kardashian, Khloe Kardashian, Cindy Crawford, Reese Witherspoon, Khloe Kardashian, Ellen Pompeo, Michelle Williams, Kelly Rowland, Snoop Dogg, Mario Lopez and Gigi Hadid.
All of the members of Kobe Bryant's former team, the Los Angeles Lakers, purchased items from the MAMBACITA x DANNIJO collection. So did all of the Golden State Warriors, as well as basketball stars Devin Booker and Kyrie Irving, football star Russell Wilson and tennis star Naomi Osaka.