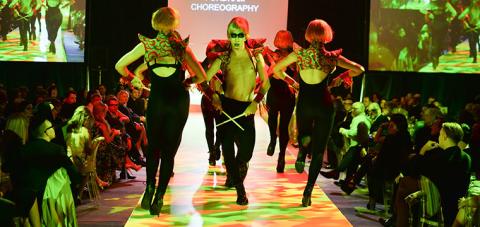 Dare To Wear Love, the swish annual Canadian fashion gala founded by Hoax Couture designers Jim Searle and Chris Tyrell, is set or May 12 at Toronto's Ritz Carlton. The event has raised more than a half-million dollars in its eight-year history for the Stephen Lewis Foundation and this year will support the launch of its new LGBTQ initiative supporting communities in sub-Saharan African countries.
According to information on the foundation's site, "LGBTQ communities in sub-Saharan African countries are under attack. In country after country, they are persecuted, discriminated against, harassed, beaten, jailed, subjected to 'corrective rape', and their very lives are criminalized and threatened. 34 out of 54 countries in Africa maintain laws that criminalize consensual sex between men, and 24 maintain laws that apply to women."
Dare To Wear Love 6 promises an eye-popping assortment of threads from notable and emerging homegrown designers including (but not limited to) Hoax Couture (of course), DSquared2, Farley Chatto, Peach Berserk, Izzy Camilleri and Greta Constantine, whose Fall/Winter 2017 Collection receives its exclusive North American premiere.
What's more, the one-of- a-kind creations have been constructed from six yards of African fabric.
In addition to rubbing shoulders with the designers, attendees will watch a fashion show, hear music courtesy jazz/gospel star Billy Newton-Davis and pop singer/songwriter Fefe Dobson, listen to talks by Stephen Lewis and Ugandan LGBTQ activist Frank Mugisha, while knowing they are, in the words of a press release, helping to "ensure that determined and courageous LGBTQ organizations are able to provide their community with desperately needed programmes and services to address the scourge of HIV and AIDS."
Tickets for the VIP gala dinner/show are $500 which includes a pre-dinner cocktail party with the designers plus three-course dinner, advance access to silent auction, premium seating for the fashion show and an after-party.
Budget-minded attendees can opt for the smaller package: $150 for access to a cocktail party, the fashion show and the after-party. Tickets (available here) include a charitable tax receipt for the maximum allowable portion of the ticket price as per CRA guidelines.
According to the SLF, "With your support for this urgent initiative, the SLF will provide $1 million within the next two years to ensure that 25 LGBTQ communities in sub-Saharan Africa receive the critical support they need: for HIV&AIDS prevention; for treatment, psychosocial and nutritional support; for healthcare outreach; and for vital anti-stigma work."
Zapatillas de baloncesto Nik