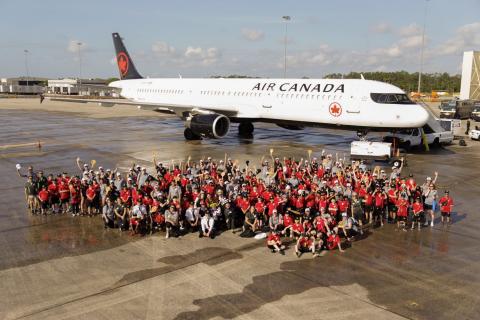 More than a hundred children with various personal challenges, medical to emotional, are currently enjoying a trip to Walt Disney World in Orlando, Florida for Dreams Take Flight courtesy of Air Canada. The day-long visit, which left from Toronto early this morning (May 8), marks the charity's 30th anniversary flight.
Fights leave throughout the year once per city: Vancouver, Edmonton, Calgary, Winnipeg, Ottawa, Toronto, Montreal and Halifax.
Since the inaugural flight in 1989, more than 35,000 kids have enjoyed the special, once-in-a-life-time experience to the world-renowned theme parks, either Disney World in Florida or Disneyland in California, where kids — and adults — can forget about their troubles and illnesses.
According to the press release, "Air Canada donates planes. Volunteers raise money throughout the year. Donors give to cover all the expenses—aircraft fuel, park admission, spending money, plus cash for souvenirs and gifts. Each child and their escort are clad in signature clothing to set them apart in the park."
"I want to thank the many volunteers who work relentlessly each and every year to ensure the flights across Canada take place," said Dreams Take Flight Canada president Bev Watson in a statement  "There is no greater reward than seeing the smiles of the children as they see and experience the wonders of the Disney. 
"Many of the children, we have taken on our trips, are now coming back to help us make a difference in the lives of others," she added. "They know first-hand what a difference it made in their lives. Of course, without our sponsors we couldn't do what we do and want to thank them especially the Air Canada Foundation for helping us in making magical memories for special kids a reality."
Usually the children all gather for a big party at a hangar at Toronto Pearson Airport, but due to renovations, they are leaving from the terminal. Of course, they still had a party, at The International Centre, and were bussed over to the airport.
For most, this is the first time they've ever been on an airplane and, definitely, their first time visiting Disney World.
The idea for Dreams Take Flight began long before Air Canada Foundation existed. According to the web site, in 1989, some Air Canada employees in Toronto raised money through bake sales to raise the thousands of dollars to send 70 special needs children on a DC-9 aircraft to Walt Disney World in Florida.
This year, Montreal and Ottawa chapters are celebrating their 25th anniversary. The Winnipeg and Halifax chapters reached that milestone last year, and Edmonton, Calgary and Vancouver chapters back in 2017.
Air Jordan Release Dates Calendar