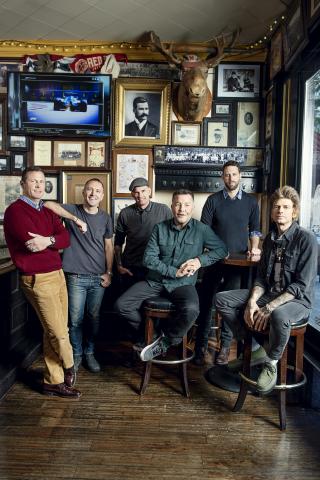 Celtic-punk band Dropkick Murphys' The Claddagh Fund charity raised more than $60,000 for the Boston Resiliency Fund in connection with its "Streaming Up From Boston" live-streamed performance on March 17.
The band's St. Patrick's Day week shows in its hometown of Boston were postponed due to the COVID-19 pandemic so it decided to reach an even bigger audience with a full-length performance streamed on YouTube, Instagram and Facebook. It has already been watched more than 10 million times across multiple platforms and is archived on the group's YouTube channel.
Dropkick Murphys also used the opportunity to solicit donations for The Claddagh Fund, a charitable foundation set up by group member Ken Casey in 2009 that honours the three attributes of the traditional Irish Claddagh ring: love, loyalty and friendship.
The Claddagh Fund's mission is to raise money for underfunded non-profit organizations that support vulnerable populations in local communities. It focuses on programs supporting children, veterans organizations, and alcohol and drug rehabilitation. It has supported more than 30 organizations since it was founded.
The Claddagh Fund raises money through events and programs, corporate support, donations, sales of merchandise and branded apparel, as well as Barroom Ale, a collaboration between Dropkick Murphys and Magic Hat Brewing Company.
The Boston Resiliency Fund helps coordinate fundraising and philanthropic efforts to provide essential services to residents whose health and well-being have been immediately impacted by the COVID-19 pandemic.
The Boston Resiliency Fund's priorities are to provide: food to Boston's children and seniors; technology to Boston Public Schools students for remote learning; and support to first responders and healthcare workers so they can effectively do their job.
The fund has received support and contributions from a variety of organizations, corporations, families and individuals. It has so far granted funding to Greater Boston Food Bank, Ethos, About Fresh/Fresh Truck, Community Servings, Project Bread, Boston Health Care for the Homeless, Boston Medical Center and Pine Street Inn.
Dropkick Murphys formed in 1996 and has sold seven million albums since then. It's probably best known for its "I'm Shipping Up To Boston" single that's become a local anthem, is nearing double-platinum sales in the United States, and was used during a key moment in director Martin Scorsese's Academy Award-winning film, The Departed.
The band is composed of Al Barr (lead vocals), Tim Brennan (guitars, accordion, mellotron, whistles, vocals), Ken Casey (lead vocals, bass), Jeff DaRosa (banjo, bouzouki, mandolin, harmonica, acoustic guitars, vocals), Matt Kelly (drums, percussion, vocals), James Lynch (guitar, vocals), Kevin Rheault (touring bassist) and Lee Forshner (touring bagpipe player).
Dropkick Murphys just released a downloadable single called "Mick Jones Nicked My Pudding," which is based on a story from a friend of the band who insists the former Clash member stole his pudding from a community fridge in a recording studio. The two-song download also includes a cover of New York City Celtic-rock act Black 47's "James Connolly."
The band is asking for a minimum of two dollars for the two songs, although it will accept payments of four, six, 10 and 20 dollars at its online store. Those who up the ante to $50 will receive a "custom shout out video or thank you" and a $100 payment earns a "roast your buddy" video from the group.
Dropkick Murphys is using the money to pay its employees since it's losing revenue from five scheduled concerts this month that have been postponed until September and November.
Nike Air Max 270 Black Gold Shoes Best Price AH8050-007 – Buy Best Price Adidas&Nike Sport Sneakers