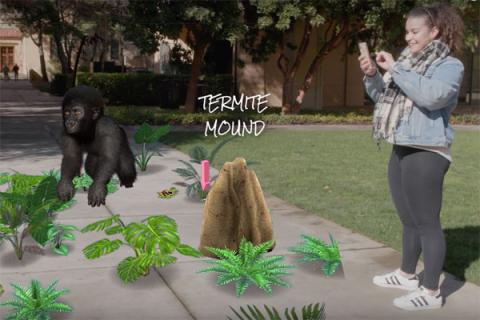 A new augmented reality mobile game supported by Ellen DeGeneres is being used to help gorillas in Rwanda. Gorillas! is the new game created by augmented reality app maker Krikey in partnership with The Ellen Fund.
In the game, users are taken to the mountains of Rwanda where they'll join a family of gorillas to forage for food like termites and berries, unlocking footage of further gorilla animation as they advance. Completing the game gives users the option to donate to The Ellen Fund to support conservation efforts for endangered species.
Founded in 2018, The Elle Fund was a gift from actor Portia de Rossi to her television host partner Ellen DeGeneres to to support global conservation efforts. One of the first projects for The Ellen Fund has been to support The Dian Fossey Gorilla Fund, which funds the protection of mountain gorillas in Rwanda and the Democratic Republic of Congo.
"Seeing the mountain gorillas in Rwanda was one of the most incredible experiences of our lives. We want everyone to be able to feel what it's like to be there, and with our game Gorillas! by The Ellen Fund you absolutely can," said Ellen DeGeneres and Portia de Rossi in a shared statement.
Krikey believe that having gamers experience living like gorillas in a virtual reality environment will help build empathy for them and a better understanding of the forces they need protection from.
"We created Krikey to encourage conservation and bridge that gap between inspiration and reality, " said Ketaki Shriram, Krikey CTO. "Not everyone can travel to Rwanda to trek with gorillas but with augmented reality, anyone can step into the forest and experience the beauty and peacefulness of the ecosystem."
Watch a trailer for Gorillas!
(Please support Samaritanmag's original journalism by making a PayPal contribution or EMT transfer using  info@samaritanmag.com so we can increase the amount of content and writers we hire. Samaritanmag is the anti-tabloid, covering good people trying to change bad things. Let's make this thing bigger than TMZ.)
Air Jordan