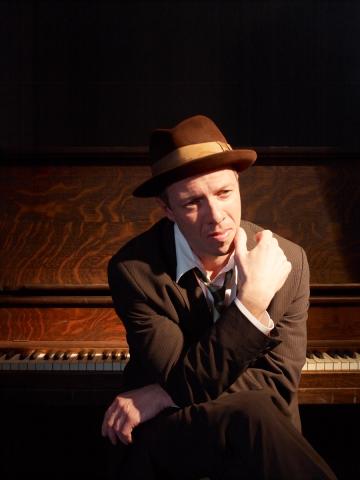 When actor Michael Kash mounts the stage at Toronto's Theatre Centre on February 20, he'll be doing more than just channeling his character in Eugene O'Neill's gripping and rarely performed play, Hughie. He'll also be assisting people living with asthma and serious allergies by raising buckets of cash.
All proceeds from that night's performance - potentially $7,000 to $12,000 – will benefit Anaphylaxis Canada, a national registered charity, information resource and support group for children and adults grappling with allergies, especially those relating to food, which can be fatal.
The benefit is just another example of Kash's ongoing altruism. He is the founder of the Alley Theatre Workshop, which since 2005 has operated with the stated mandate of always giving back to the community through charities involving children.
Proceeds are raised through performances and fundraisers organized by ATW and so far, the charities chosen have had some personal connection to Kash. For example, the first such venture, during ATW's 2005 production of Ann Randolph's Squeezebox, came about because Randolph talked to Kash about Making Faces, a non-profit organization that helps children with facial differences.
Another past recipient: the Pia Bouman's Children's Bursary, which allows children to study dance at the Bouman School for Ballet and Creative Movement regardless of financial means.
"I have asthma and have been in hospital three times in the past five months," Kash tells Samaritanmag.com between rehearsals for Hughie at Bouman's Parkdale studios. "I've haven't had it this bad since I was a kid and it seems to be the season for it.
"I ran into a friend of mine whose two kids are anaphylactic and have the EpiPen kits and we got talking. She told me a scary story about her son in Greece and I researched Anaphylaxis Canada, and they work with asthmatics as well. So I put two and two together and decided that timing-wise, this would be a good fit with Hughie. I approached Anaphylaxis Canada about the benefit, and we're good to go."
Tickets for the performance will range from $50 to $100; the Theatre Centre seats 120. "Obviously, we hope to sell it out, which will take some awareness. But we're very hopeful."
Kash has good reason to be optimistic.
Playwright O'Neill's fleet, 45-minute two-actor play is set in a seedy New York hotel. It follows small-time hustler Erie Smith (Kash) as he interacts with Charlie Hughes, the hotel's night clerk who has recently replaced the titular Hughie.  Kash's production marks the first time Hughie has been performed as a single bill in Canada; it runs from February 7 to March 3.
As Kash explains, theatre does have some tradition of giving back to the community. In New York — where the now-Toronto-based Kash spent 10 years working — Broadway productions give an entire day's "gate" to AIDS charities.
"It's called Equity Fights AIDS," Kash explains. "So across the board, on that specific day, theatres donate their entire winnings to AIDS. And it's pretty cool because on those days, the cast comes out at the end, lets people know they're also donating that day's salary, and the audience gets a chance to meet them which can be really exciting if there's a big star like Frank Langella in the cast."
As for his own philanthropic streak, Kash credits his family, especially his father.
"He was out there working with the community all the time just as a private citizen. Plus my grandfather, who I was really close to, had a stroke when I was 14 and I spent 20 years caring for him as a stroke patient.
"I think that's where it's come from… being able to see the struggle. The artistic struggle is a struggle, but so is everything else. I just saw a way of using our work to generate funds for other charities."
Air Jordan 1 Mid "Chicago Black Toe" Black/Gym Red-White For Sale