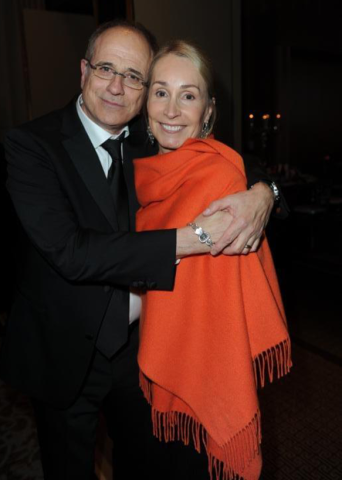 Bob Ezrin's CV is expansive and impressive but so too is his heart. The latter is about to be fêted with a statue all its own. Along with wife and business partner Jan Ezrin, the legendary Canadian producer known for chart-topping work with Alice Cooper, Lou Reed, KISS, Pink Floyd, Deep Purple, Peter Gabriel and Phish is to receive the first-ever MusiCounts Inspired Minds Ambassador Award in recognition of the pair's tireless advocacy for music education made accessible to all.
Presented by the Canadian Scholarship Trust Foundation, the award — handed out in Ottawa March 31 at the 2017 JUNO Awards Chairman's Reception — recognizes the Ezrins' decade-plus association with MusiCounts.
In its 20-year history, MusiCounts has awarded over $10,000,000 through its various programs, benefitting some 950 schools and community organizations and 350 post-secondary music program graduates while honouring 12 cut-above music teachers.
Ezrin first became associated with the charity in 2004 after his induction into the Canadian Music Hall of Fame. In 2005, he helped spearhead the MusiCounts Teacher of the Year Award and brought in the Rolling Stones to sponsor and present it. Through sponsorship by other renowned acts such as Rush, Michael Bublé and this year Blue Rodeo,  the program, according to a release, "has elevated MusiCounts' status in the industry while bringing attention to the heroes of education."
As president of the Ezrin Company, Jan Ezrin manages the company's production efforts in Canada in music and television. Together the couple helps put instruments in the hands of kids nationwide.
In a prepared statement, MusiCounts director Kristy Fletcher says, "We are thrilled to present Bob and Jan Ezrin with the inaugural MusiCounts Inspired Minds Ambassador Awards. Over the past 15 years they have volunteered their time, lent their expertise, championed our programs and have been instrumental in increasing awareness of the work we do."
And that before-mentioned comment about Ezrin's big heart? We weren't kidding. The 67-year-old producer also advocates for youth south of the border as vice chairman of the Mr. Holland's Opus Foundation which donates instruments to underfunded school music programs.
Ezrin is co-founder along with U2 guitarist The Edge and Gibson Guitar CEO Henry Juszkiewicz of Music Rising, an initiative to preserve the musical culture of the Gulf Coast region following the damage caused by the hurricanes and flooding of 2005 — namely New Orleans and Haiti — through an ambitious and multi-layered series of awareness-building campaigns and benefits.
And Ezrin is a member of the board of the Nashville Symphony and is part of the advisory board for Music Makes Us, an initiative of that city's mayor's office seeking to ensure vibrant music education programs in Music City public schools.
Of the inaugural MusiCounts Inspired Minds Ambassador Award, Jan Ezrin is quoted as saying, "We are truly honoured to receive this award, but we do so on behalf of all the MusiCounts ambassadors who have worked so hard to grow this amazing initiative over its 20-year history.
"All of us share the belief that music should be a fundamental part of every child's education, which is why it is so important to support MusiCounts in its efforts to make music accessible to all children through their schools and community centres, no matter what their circumstances are.  And so all of us share in this award."
Air Jordan