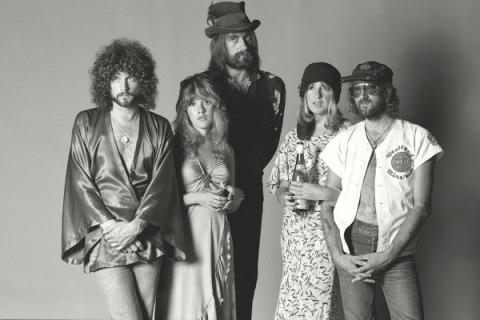 Fleetwood Mac, the band behind such hits at "Dreams," "Rhiannon" and "Landslide," will be celebrated as the MusiCares Person of the Year on Jan. 26, 2018, by the Recording Academy— the organization which also presents the Grammys. The gala at New York's Radio City Music Hall is a fundraiser for the Academy's charity MusiCares, which "ensures music people have a place to turn in times of financial, medical and personal need."
It will be the first time ever that a band — Fleetwood Mac features Mick Fleetwood, John McVie, Christine McVie, Lindsey Buckingham and Stevie Nicks — and not an individual will be given this honour.
The award is meant to commend musicians on their philanthropy throughout their careers.
Together and individually Fleetwood Mac's members have supported numerous charitable causes over the years. Some of these causes include the Elton John AIDS Foundation, music therapy charity Nordoff Robbins, the Red Cross, Starkey Hearing Foundation, which provides hearing aids for people around the world, and the Sweet Relief Musicians Fund, which provides assistance to in-need musicians. Some of the individual band members' causes include Stevie Nicks' Band Of Soldiers, which supports wounded military personnel, and Mick Fleetwood and his ex-partner Lynne Fleetwood's support of International Fund for Animal Welfare.
The band has also supported MusiCares. Established in 1989, MusiCares is helps out musicians and music industry personnel in times of financial, personal or medical crisis. The organization, which is under the same umbrella as the National Academy of Recording Arts and Sciences (NARAS), the same people responsible for the Grammy Awards, provides things like emergency financial assistance, addiction recovery, outreach and leadership activities, and senior housing. Some MusiCares programs include the MusiCares MAP Fund, which provides addiction recovery services, and the MusiCares Sober Touring Network, which helps touring musicians find recovery support meetings while on the road.
"It's a tremendous honor to be the first band to receive the MusiCares Person of the Year award," said Mick Fleetwood on behalf of Fleetwood Mac, in a press release. "Independently and together, we all set off on a journey to spend our lives as artists, songwriters, and musicians. None of us did it alone and there were plenty of helping hands along the way, so we applaud and celebrate MusiCares' guiding principles of giving musicians a helping hand and a place to turn in times of need. We are very appreciative of this recognition."
Recording Academy officials called giving the MusiCares honour to Fleetwood Mac a "thrill."
"Our 2018 MusiCares Person of the Year tribute is a celebration of firsts—the first time our annual signature gala will be held in New York City in 15 years, and the first time in the benefit's history that we will honor a band," said Recording Academy president Neil Portnow, "This excitement is only matched by the genuine thrill and privilege of paying tribute to Fleetwood Mac, a legendary and influential group of artists whose music has provided the soundtrack for music lovers around the world."
Past MusiCares Persons of the Year include Tom Petty, Bruce Springsteen, Carole King, Bob Dylan, Lionel Richie, Neil Young, Aretha Franklin and Bono.
The 28th annual benefit gala will be part of Grammy Week leading up to the 60th Grammy Awards broadcast on Jan. 28. Ticket information for the MusiCares event is not yet available.
nike dunks high 2009 2017 , Nike Air Max 97 Ropa Orgasmica