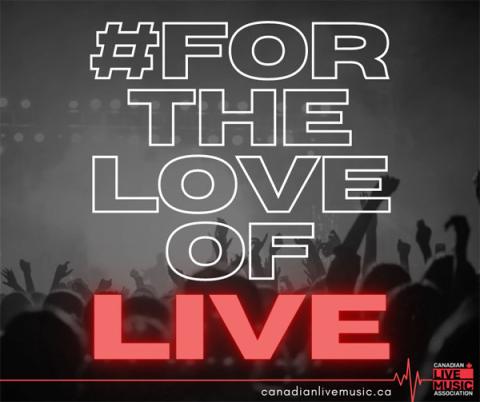 A national awareness campaign is hoping to generate government support for the Canadian live music sector and those impacted by its shutdown due to the global COVID-19 pandemic.
The Canadian Live Music Association's (CLMA) recently launched #FORTHELOVEOFLIVE campaign is asking both music fans and elected government officials to use social media to share their favourite live music memory as well as how COVID-19 has affected them and their businesses.
The CLMA is suggesting live music supporters reach out to their local elected officials and ask them about things like their favourite concert and their neighbourhood venue, or asking them to post a picture in their fave concert tee-shirt, or share a tale of their own live concert memories.
The Canadian live music industry has been particularly hard hit by the COVID-19 pandemic. The CLMA says live music in this country creates 72,000 jobs and contributes approximately $3 billion to the national GDP. It also says live businesses have experienced a 92 per cent revenue loss since the pandemic shutdown in March 2020 and estimates 64 per cent of venues are at risk of closure. An ongoing closures list maintained by CLMA shows more than 80 high-profile venues have already closed in Canada.
"The Canadian live music industry was one of the first to shut down at the beginning of the pandemic," said musician Peter Katz in a #FORTHELOVEOFLIVE video. "And it will be be one of the very last to reopen."
In addition to the #FORTHELOVEOFLIVE social campaign, the CLMA is hoping music fans support its seven point live music recovery plan. The plan, which was unveiled this month, is suggesting continued emergency relief for live music companies and organizations, a tourism-related relief and recovery fund, continued Canada Emergency Rent Subsidy, access to rapid testing, continued Canada Emergency Wage Subsidy, support for the industry music charity UNISON, and fund to provide long-term rebuilding support.

"Live music is a major economic driver across the country, and we know that Canadians will want to return to live music venues, when it is safe to do so," said Erin Benjamin, President and CEO of the Canadian Live Music Association, in a press release. "Real people in your community are at risk of losing their jobs forever. They need additional, ongoing targeted support from governments to ensure that when COVID measures are lifted, Canadians continue to have access to the artists and live music experiences they know and love.
An Abacus Data survey for Music Canada recently showed that Canadians recognize the outsized impact of COVID-19 on the arts and culture sector. Some findings include

• 65% think live music will need at least some help from government
• 65% agree that many musicians in Canada who have been unable to make a living from their music or art will have to find new ways to make a living, risking Canada's culture, arts, and music industry long-term.
• 58% agree that the pandemic will have a long-term, negative impact on the production of Canadian art, music, and culture.
• 53% agree that without government support, an entire generation of Canadian musicians and arts could be lost.

Watch a video about #FORTHELOVEOFLIVE