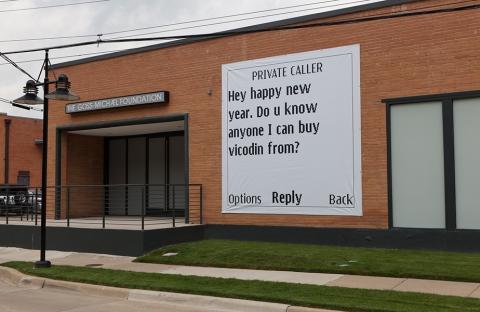 Stories are now emerging about George Michael's generosity to an array of charitable causes from cancer to child welfare to sexual health, but for the past decade in Dallas, Texas, the English singer and his former long-term partner Kenny Goss — who is from Dallas — have also contributed to the arts. The couple founded The Goss-Michael Foundation, an art gallery with educational programs.
Michael — whose albums have sold more than 100 million copies worldwide since he launched his career in the 80s as part of the duo Wham! — died "peacefully at home over the Christmas period" in Oxfordshire, England, his family said in a statement issued by the Thames Valley Police. He was 53.
The Goss-Michael Foundation displays about 500 works by more than 100 esteemed British contemporary artists, such as Damien Hirst, Tracey Emin, Sarah Lucas, Marc Quinn and Michael Craig-Martin.  Admission is free (M-F).
"Michael and Goss have assembled a collection of innovative and provocative pieces that often relate to one another through shared themes: sexuality and its relationship to one's being; personal identity and societal roles; beauty, sensuality and death; as well as the social and political issues facing the current generation," it states on the web site.
The pair often purchase new works from the artist to keep the collection up to date or work with a future topic or theme, according to the Foundation.  Loan requests are considered "from accredited or similarly qualified institutions."
In addition to the gallery, The Goss-Michael Foundation "supports a strong and focused educational program which is aimed at high school and university education, continuing education and also offers programs for educators and professional development."
In 2013, it started  an artist-in-residence program "with the goal of supporting the development of artists of diverse age, backgrounds and disciplines." Dan Rees was selected in 2013 and Neil Raitt in 2014.  No artists are listed on the site for 2015 or 2016.
The Foundation also exhibits "select international artists on a rotating basis and works with significant Texas-based artists as part of its (FEATURE) program."
nike air vortex retro junior girls clothes sets DH0613-100 Release Date