Maryland-formed rock band Good Charlotte were among the entertainers and activists who took the stage for Annapolis Rising, on Saturday (July 28), a benefit concert for free press and first responders in response to the mass shooting a month earlier at the Capitol Gazette newspaper offices in Annapolis that killed five journalists and wounded two others.
Good Charlotte, formed in Waldorf in 1998 by Joel and Benji Madden, was joined by rockers Less Than Jake and Comedy Central comedian Jordan Klepper, along with speeches and presentations by several political dignitaries, journalist colleagues and civil rights leaders.
Monies from Saturday's all-day festival go to The Capital Gazette Families Fund, a GoFundMe campaign launched immediately following the tragedy that surpassed its $200,000 USD goal and is now redireced directly here.
"There is healing power in music and free speech," Mayor Gavin Buckley wrote in the Capital Gazette the day prior to the fundraiser. "That is the driving force behind this benefit."
According to the donation page, "The Fund was established in honor of the Capital Gazette newspaper employees and their families. The Capital Gazette Families Fund will provide immediate relief and long-term recovery support to employees and immediate family members of employees of the Capital Gazette, as well as employees across the company who have been directly affected by tragedy. Grants can be applied to funeral expenses, grief and trauma counseling, medical expenses not covered by insurance, and other qualified expenses and services. Support will also be available to help families fill the gaps where they have expenses due to injury and loss of income, including child care, housing, insurance, transportation, etc."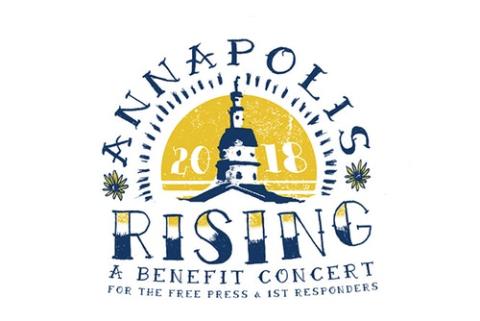 Annapolis Rising was organized by the Mayor to honour the murdered editors and reporters — editorial page editor Gerald Fischman, 61; assistant managing editor Rob Hiaasen, 59; sports reporter John McNamara, 56; sales assistant Rebecca Smith, 34; and speical publications editor Wendi Winters, 65 — by a lone gunman who had a long-standing grudge against the newspaper. While final numbers and the amount of funds raised were not disclosed, the Capital Gazette reported attendance was "in the thousands," with admission costing $25 USD in advance and $30 at the door. The Mayor plans to make the festival an annual event.
Tronc, the parent company of the Capital Gazette, established The Capital Gazette Families Fund through the Community Foundation of Anne Arundel County. The Michael and Jacky Ferro Family Foundation will match up to $1 million in donations.
In addition to the family fund, a Capital Gazette Memorial Scholarship Fund has been created to provide an annual award for select students pursuing a degree in Journalism at the University of Maryland, College Park, reports the Capital Gazette.
Aside from Mayor Buckley and Maryland senators Ben Cardin and Chris Van Hollen, speeches were given by journalists Elizabeth Bumiller, Tom LoBianco, Lucy Dalglish, Marty Baron, the White House Correspondents Association Oliver Knox, Capital Gazette editor Rick Hutzell, Andrea Chamblee (widow of slain editor John McNamara) and Civil Rights leader Carl Snowden, while Bishop Craig Coates of Fresh Start Church requested a moment of silence for the victims.
Maryland's Deputy Secretary of State, Luis E. Borunda, presented state flags that had flown over the State House to the victims' families.
Senators Cardin, Van Hollen, U.S. representative John Sarbanes and State Delegate Herb McMillan spoke in support of freedom of the press and called out aggression against journalists, the Capital Gazette reported.
"We honor The Capital continuing under very difficult circumstances to make clear the freedom of press will live on here in Annapolis," Cardin said, reported the Capital Gazette.
"It is a great stain on all of our country that we have not done more to prevent these senseless tragedies," Van Hollen added.
Olivier Knox, president of the White House Correspondents' Association, specifically called out President Donald Trump for his twitter posting last year when he called journalists the "enemy of the American people."
Washington Post editor Marty Baron said each of the five killed should be seen as regular, decent people, just like everybody else in the community.
"Not one of them deserved to be seen as the enemy because of the profession they chose, or the place they worked," he said. "To demean, to demonize them, to dehumanize them is to debase yourself."
Baron said it was important not just to reflect on the "horror of June 28th," but also to reflect on what the country's founders gave future generations: free expression and freedom of the press — "what James Madison called the only effectual guardian of every other right," The Capital Gazette reported.
Participating musicians included Zee Band, Paul Reed Smith, Western Star, Great Heights Band, Art Sherrod Jr., Skribe, Higher Hands, Gary Jobson, Dublin 5, Clones of Funk and the headliners.
The Capital Gazette reports that several in the audience wore T-shirts proclaiming, "Press On," "Journalism Matters," "Annapolis Rising," "I Back the First Amendment" and "Annapolis Strong."
"Thank you for coming here and supporting victims' families," said Saran Erdenebat, the Capital Gazette's editorial page editor Gerald Fischman's widow. "I feel stronger now."
Another widow – Andrea Chamblee, who was married to Capital sports editor and news writer John McNamara, said she "became a member of a very special club" last month.
"It's one that doesn't exist anywhere else in the world. Just the United States," she said, referring to victims of gun violence.
She urged the audience to join another club — one of registered voters.
"I implore you. I invite you. I beg you. I welcome you to this club," she said.
Jarrod W. Ramos, a 38-year-old Laurel, Maryland man, has been charged with five counts of first-degree murder.
nike fashion