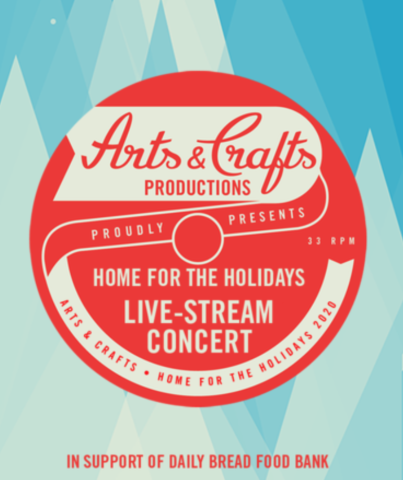 Sloan, Dan Mangan, Said The Whale and Charles Spearin are among the artists who have laid down Christmas or holiday songs for a compilation, Home For The Holidays, put out by Toronto's Arts & Crafts label, and to help promote the release almost all of the artists from the album (plus some others) will perform a day-time virtual concert, Dec. 13, to help raise funds for the Daily Bread Food Bank.
The Toronto food bank, founded in 1983, supplies food to nearly 200 food programs around the city, collected and sorted at its distribution hub.  "No one should go hungry," it reads on its web site. "Since the pandemic, food bank use continues to rise. You can help ensure everyone's right to food is realized this holiday season."
Tickets for the Home for the Holidays live stream are $12 and available on Side Door, co-founded by Mangan.
The show will include performances "from the comfort of their own homes to yours," by Mangan, Arts & Crafts' co-founder and Broken Social Scene singer Kevin Drew, Sloan's Chris Murphy, Said The Whale, Broken Social Scene/Do Make Say Think's Spearin, Ellevator, Jordan Klassen, Lo Talker, Lowell, Sarah MacDougall, Reuben and the Dark, and Zeus.  The show starts at 3 p.m. EST (12 p.m. PST).
"Home For The Holidays began to take shape during the first few weeks of the pandemic," said Arts & Crafts president Kieran Roy in a press statement.  "With touring and recording plans put on hold, we approached our artists to contribute a holiday song for the album. In most cases, these songs were recorded in the artists' own home studios, which now seems all the more appropriate. We hope these songs and the live stream concert will allow us all to feel a bit more festive while we're home for the holidays."
Below is the tracklisting for Home For The Holidays:
Charles Spearin - The Christmas Box
Zeus - Marching Through Your Head (Christmas Edition)
Hannah Georgas - Let It Snow
Ellevator - Urge for Going
Sloan - Kids Come Back Again at Christmas
Dan Mangan - Have Yourself A Merry Little Christmas
Jordan Klassen - Came Back On Christmas Day
Reuben and the Dark - Xmas in California
Lowell - To Mary
Said the Whale - Wanting Like Veruca
Sarah MacDougall - Out Of This Blue
Busty and the Bass - Auld Lang Syne
【国内12月1日発売予定】ナイキ エアジョーダン 4 レトロ SE "サシコ" ディープ オーシャン/セイル-セメント グレー-ファイヤー レッド (CW0898-400) - スニーカーウォーズ