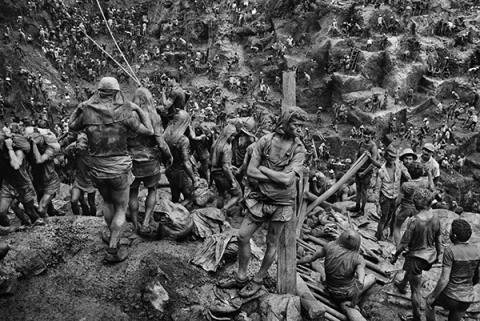 The 12th annual Toronto edition of the Human Rights Watch Film Festival opens this week, including a screening of The Salt of the Earth, the Oscar-nominated new film by Buena Vista Social Club director Wim Wenders.
The festival programs documentaries dedicated to highlighting human rights abuses and stories of resistance to that abuse. It screens in several cities internationally, including Amsterdam, Basel, Los Angeles, Nairobi, New York, San Diego, London, Zurich and Washington, DC. The only Canadian stop, in Toronto, runs March 24 to April 2, with all eight screenings taking place at the TIFF Bell Lightbox. Regular screening tickets are $13 each.
Among the selections in this year's programme is the opening night gala The One That Got Away, which tells the story of a Nazi concentration camp escapee reunited 70 years later with the girl he fell in love with during his imprisonment. The closing night film, Lady Valor: The Kristin Beck Story, explores the struggles of former US Navy Seal Chris Beck to live as transgender woman Kristin Beck. Beck will be on hand to introduce the film and participate in a post-screening Q&A.
Other films screening include Beats of the Antonov, a look at Sudanese farmers trying to endure government bombing campaigns, and The Look of Silence, Joshua Oppenheimer's follow-up to The Act of Killing, about an Indonesian optometrist confronting the paramilitaries responsible for his brother's death.
The highest-profile entry in the festival is arguably The Salt of the Earth. Co-directed by Wim Wenders (Wings of Desire) and Juliano Ribeiro Salgado, it is as a tribute to Juliano's father, renowned photographer Sebastião Selgado. The elder Selgado has spent decades documenting political violence worldwide, including in Iraq, Rwanda and Bosnia. The Salt of the Earth was nominated for the 2015 Best Documentary Oscar (it lost to CitizenFour) and won the Un Certain Regard's Special Jury Prize at Cannes last year.
The Human Rights Watch Film Festival is an offshoot of Human Rights Watch, an international non-governmental organization (NGO) founded in 1978 and dedicated to monitoring human rights abuses worldwide.
A statement on the film festival's website reads in part: "Through our Human Rights Watch Film Festival we bear witness to human rights violations and create a forum for courageous individuals on both sides of the lens to empower audiences with the knowledge that personal commitment can make a difference. The film festival brings to life human rights abuses through storytelling in a way that challenges each individual to empathize and demand justice for all people."
For screening information, visit the TIFF Bell Lightbox website.
Patike – Nike Air Jordan, Premium, Retro Klasici, Sneakers