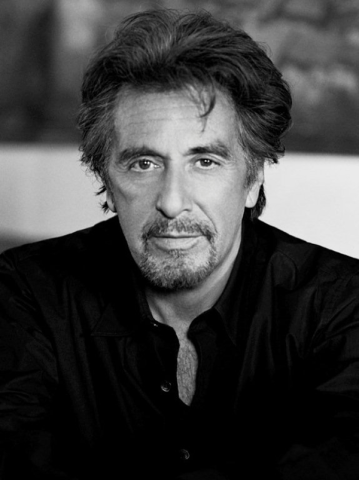 The 39th Toronto International Film Festival kicks off tonight at the TIFF Bell Lightbox with the 3rd Annual TIFF Gala and a marquee speaker, Academy Award-winning actor Al Pacino.  The intimate event for 300 people is expected to raise close to a half-million dollars for TIFF charities Pocket Fund and Reel Comfort.
"We are very very lucky, when we started looking to change the event a little this year, that the stars aligned and Mr. Pacino agreed to come to Toronto early to participate in this gala and participate in 'In Conversation,'" Maxine Bailey, vice-president of advancement at TIFF, tells Samaritanmag.
Tickets are a pricy $1500 and include an onstage conversation with the star of the Godfather films, Scarface, and Scent of a Woman, plus a cocktail party, live music, and special guests.
Pocket Fund provides subsidies for children and families who otherwise would be unable to participate in TIFF's educational and cultural programming; and Reel Comfort programs films and special guests for mental health patients at Toronto General and St. Michael's hospitals.
"We're thrilled to have Al Pacino," says Bailey, "because we thought we're a film organization and we want to 1) showcase our home, which is why we're doing it in the building. 2) we wanted to have a filmic kind of representation — we just didn't want it to be a big party; we wanted to actually show what we do best, which is put on great events, and put on events with films or talent talking about the craft of film — How you got there? What made you want to do it? Why are you still doing it? And what's your transition been? 
"So we were very blessed that he said yes to this. So he's coming in a few days early."
Pacino is also at TIFF to promote the premieres of his new films, The Humbling and Manglehorn.
Matilda Davidson and Nasma Ahmed, former members of TIFF Next Wave — one of TIFF's youth initiatives, a film festival with workshops geared to 14 to 18 year olds — will open up the evening.
"They're actually going to say thank you all for coming, and this is why," says Bailey. "We thought that that was important too to get some of the end users, people who have worked through a couple of our programs, as semi co-hosts."
Not all the gala tickets were sold to members of the film industry, says Bailey. While the allotment is small, fans of Pacino and friends and family of board members and TIFF staff were asked to consider splurging on a ticket to support the event.
"We're hoping that it's not just a fundraiser," Bailey adds. "For us, a lot of it's about awareness about the gala and all of the things that we do throughout the year. We realized that we hadn't told enough people about our story. So it is about raising money, but it's also about letting people know what we're doing with their money."
Samaritanmag will be running a feature story in the coming weeks about TIFF's charitable programs. 
Air Jordan 1 Mid "What The Multi-Color" For Sale