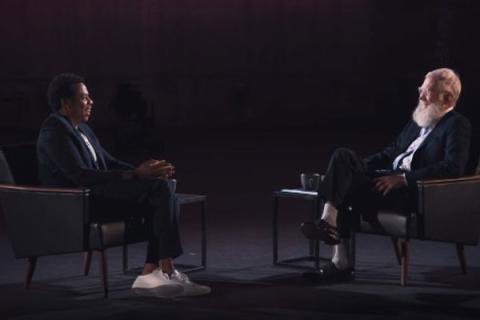 Jay-Z used his recent appearance on My Next Guest Needs No Introduction with David Letterman to explain why Donald Trump being the president of the United States of America might help turn the country around and empower young people in the next election.

Letterman prompted the rapper behind such hits as "Empire State Of Mind" and "99 Problems" by dryly stating, "I'm beginning to lose confidence in the Trump administration," — met with laughter from the audience followed by their own knowing laughter — before asking "What do you think of that?"

Jay-Z responded by explaining how Trump's presidency — one filled with accusations of racism, sexism and corruption — actually clears the air somewhat in America.

"I think it's actually a great thing, and here's why" Jay-Z said. "What he's forcing people to do is have a conversation and people to band together and work together. You can't really address something that's not revealed. He is bringing out an ugly side of America that we wanted to believe was gone. And it's still here. We still gotta deal with it. We have to have tough conversations –  we have to talk about the N-word and we have to talk about why white men are so privileged in this country."

Letterman felt similarly. "I completely agree," the interviewer replied. "And I've said this a thousand times. We don't need any more evidence:  It's not like 'Oh did you hear what happened today? Is he a racist, is he not a racist? I'm tellin' you, [if] you're having a debate over whether a guy's a racist, chances are that guy's a racist." They both laugh and the audience claps. "But that doesn't do any good. Case closed. No more calls. We have a winner. The humanity that this country has to represent has been refuelled by this dumb-ass."
"That's right," says Jay-Z.
"And because I don't have any answers for this," Letterman continues, "I keep saying, "I think this problem will take care of itself.' Now, I don't know what that means but I think it will take care of itself.  Don't you? Somehow? We can't continue."
Says Jay-Z: "I think as far as physically now, it takes people like you speaking out, especially all the young people across the country to say, 'This ain't right. I don't feel like this I don't represent what he represents and I'm gonna change that.' I believe this is going to get more people, especially young people more active than ever. I think we'll see record-breaking numbers in the next election. I think we'll break every record."
Trump was far from the only important topic the rapper talked about in his exclusive interview with Letterman. He also discussed his charity, the
Shawn Carter Foundation
, which has scholarship fund Letterman called "like a concierge that will help the kids get through high school, get into collage."  "Yeah," Jay-Z said. "The idea is, if someone has the grades, because life gets in the way a lot of times, if you're motivated and you want to go to college and your parents just don't have the means or something, we have the scholarship to help them out.
"My mom [Gloria Carter] has been running it for 10 years," he added. "She goes on the bus tours, taking kids to colleges and just preparing them for the college life. And we have graduates now. It's a beautiful thing to see."
The foundation's mission is "to help individuals facing socio-economic hardships further their education at post secondary institutions."

Jay-Z was the fourth guest in Letterman's boutique interview series for Netflix. Previous interviees have included Barack Obama, George Clooney and Malala Yousafzai.

Watch Jay-Z talking to David Letterman about President Donald Trump:
Fullress , スニーカー発売日 抽選情報 ニュースを掲載!ナイキ ジョーダン ダンク シュプリーム SUPREME 等のファッション情報を配信!