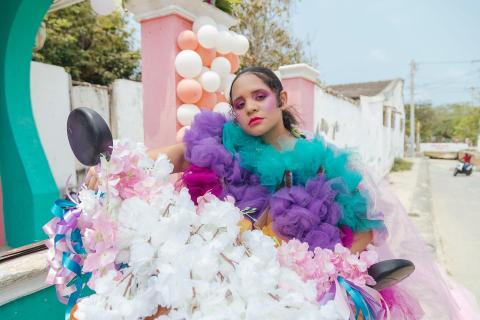 Colombian-Canadian singer, songwriter and musician Lido Pimienta launched her new Miss Colombiaalbum last month with a Pitchfork Instagram Live performance which helped to raise money, via a GoFundMe campaign, for Wayuu families in Colombia at risk of COVID-19.
The Wayuu are an Indigenous American ethnic group of the Guajira Peninsula in the northernmost part of Colombia and northwest Venezuela.
Their main source of work — from street vending to craft sales — earns the average family 3,000 to 5,000 pesos (about $1 to $1.75 CAD) a day, according to the GoFundMe page. That work essentially came to a halt due to quarantine orders.
"People who live on what they earn on a daily basis are exposed to starvation and are defenseless against the pandemic," the web page reads.
Since Pimienta focused her fundraising efforts on community organization Fuerza de Mujeres Wayuu (Force of Wayuu Women), the fund has collected $3,870 (USD) of its $10,000 (USD) goal from 67 people in less than six weeks.
"Perhaps you know of the drought in La Guajira that has caused the death of more than five thousand Wayuu people, most of them being children and the elderly who have suffered not only from thirst and malnutrition but are also affected by respiratory diseases," it begins on the site.
"The immune system of the Wayuu that inhabit the territory has deteriorated by a poor diet, lack of water, and pollution. The Covid-19 or CoronaVirus pandemic that has spread throughout the world, stalks the Wayuu people with greater danger.  We do not want another generation of our people to die."
Pimienta was born in the Colombian city of Barranquilla and now lives in Toronto. She recorded much of the new album in San Basilio de Palenque, Colombia, the oldest surviving town founded by freed Africans who had been enslaved in the Americas, and in her home studio.
Miss Colombia is the follow-up to 2016's La Papessa, which won the $50,000 Polaris Music Prize after being chosen by Canadian music journalists, bloggers and broadcasters as the country's best album.
The new LP deals with the pain that communities of colour and indigenous ancestry have experienced in societies seeded with racism and imperialist attitudes. Pimienta's signature sound, a blend of electronic and cumbia styles, is a modern take on experiences that go back generations.
With that type of dedication, Pimienta's advocacy for the Wayuu people is no surprise.
Community organization Fuerza de Mujeres Wayuu (Force of Wayuu Women) is taking non-perishable food items, hygiene products and water to Wayuu families in La Guajira for these desert people who've had to shelter in a place with little water or food due to COVID-19. A lockdown has prevented them from earning their normal meager livings by working as street and food vendors, domestic helpers and craft sellers. 
The region has been subject to major droughts and a mine in the area is blamed for draining water from the local river and the ground, and polluting what's left. This lack of safe and sufficient water for drinking and irrigation for crops has led to children suffering higher rates of malnutrition and mortality then their non-indigenous counterparts.
Fuerza de Mujeres Wayuu was founded in 2006 to denounce human rights violations against the Wayuu people. They've suffered abuses as a result of the mining mega-projects in the region along with forced displacement, armed conflicts and the militarization of the Guajira territory.
Fuerza de Mujeres Wayuu also raises awareness of the disproportionate effects that conflict and displacement have on women, and seeks to empower and improve the skills of indigenous women.
Nike Air Max 270 Black Gold Shoes Best Price AH8050-007 – Buy Best Price Adidas&Nike Sport Sneakers