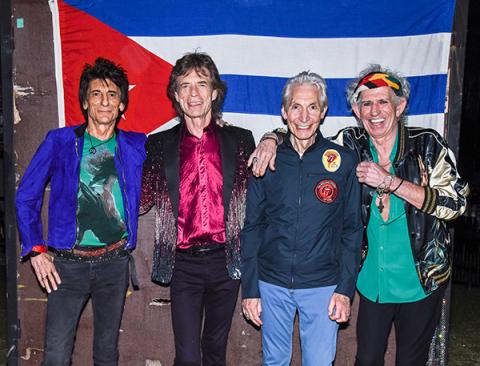 A little known fact about the Rolling Stones' historic free concert in Havana, Cuba, for 1.2 million people back in March is that while the band was in town they led a musician-to-musician charity initiative.
"We left a lot of electronic stuff behind for bands and musicians. They're very short on equipment there and they speak it [the language of music] too," guitarist Keith Richards told Samaritanmag, when the documentary film Olé Olé Olé: A Trip Across Latin America premiered at the Toronto International Film Festival in September. Tonight (Dec. 12), the film screens at more than 300 cinemas in the U.S.
Music education is of prime importance in Cuba; their schools churn out top quality musicians. According to the Canadian Network on Cuba, students receive more than 3600 hours of music education over their 12 years of public schooling — eight hours a week. Music is everywhere — Cuban son, jazz, rumba, salsa, bolero, timba, and more. Still, gear and instruments are hard to obtain.
The PR on Olé Olé Olé: A Trip Across Latin America, says "much needed musical instruments and equipment [were] donated by major suppliers for the benefit of Cuban musicians of all genres. Donors include The Gibson Foundation, Vic Firth, RS Berkeley, Pearl, Zildjian, Gretsch, Latin Percussion, Roland and BOSS with additional assistance from the Latin GRAMMY Cultural Foundation [LGCF]."
The Latin GRAMMY Cultural Foundation operates in 24 countries and "through scholarships, fellowships, grants and education programs furthers international awareness and appreciation of the significant contributions of Latin music and its makers to the world's culture."
The documentary -- directed by Paul Dugdale (Ed Sheeran, Coldplay, Adele) -- takes a rich and colourful look at each city on the Stones' Latin American tour earlier this year, culminating in the concert in Havana on March 25. The show was also shot by Dugdale and his team for for the concert doc, Havana Moon, out on Eagle Rock Entertainment. 
Air Jordan 11 Retro black varsity red white -.Nike Air Jordan 11 (XI) Retro Black / Varsity Red - White, Price: $71.99 - Air Jordan Shoes