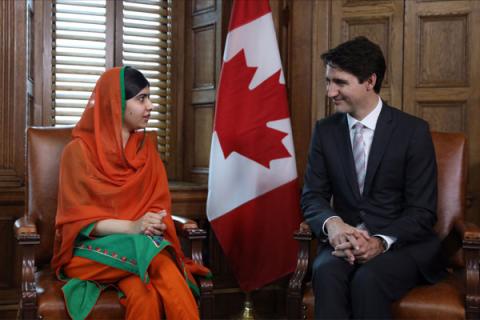 Malala Yousafzai, the youngest-ever Nobel Peace Prize recipient, addressed Canadian Parliament on April 12 to encourage Canadians to support education for girls around the world and to continue taking in refugees.
Speaking to Prime Minister Justin Trudeau and the various members of Parliament, Yousafzai made a number of specific recommendations for Canada.
"First, make girls' education a central theme of your G7 Presidency next year," Yousafzai told Parliament, referring to Canada's role in setting the G7 Summit agenda in 2018 as hosts.

"Second, use your influence to help fill the global education funding gap. You raised billions of dollars and saved lives when you hosted the Global Fund replenishment in Montreal last year. Show the same leadership for education.
"Host the upcoming replenishment of the Global Partnership for Education, bring world leaders together and raise new funding for girls to go to school. If Canada leads, I know the world will follow.

"Finally, prioritize 12 years of school for refugees. Today only a quarter of refugee children get secondary education. We should not ask children who flee their homes to also give up their dreams. And we must recognize that young refugees are future leaders on whom we will all depend for peace."
Yousafzai, 19, has been a determined activist for girls' education throughout her teen years. This has put the Pakistani native at odds with the Taliban (which banned education for girls and women in her village) and more regressive Muslim elements. A Taliban gunman attempted to murder her in 2012, putting a bullet through her head, which lodged in her shoulder near her spinal chord. The attempted murder became international news and prompted outrage from world leaders and politicans to civilians. 
In 2014, at age 17, she was co-recipient of the Nobel Peace Prize, along with Kailash Satyarthi, for her work defending the rights of all children to education.
The related Malala Fund has the specific goal of "a world where every girl can complete 12 years of safe, quality education." Some of the ways it's working towards that goal include secondary school grants for girls in Pakistan, alternative learning programs in Nigeria, improving education access for Syrian refugees and investing in education programs in Kenya.
During her visit Yousafzai was declared an honourary Canadian citizen by Trudeau. She's only the sixth person to ever receive this designation.
Yousafzai was originally supposed to visit Canadian Parliament in 2014, but that visit was cancelled when Michael Zehaf-Bibeau fatally shot Corporal Nathan Cirillo in a terrorist attack on Parliament Hill. She addressed the attack in her speech.
"The man who attacked Parliament Hill called himself a Muslim – but he did not share my faith," she said. "He did not share the faith of one and a half billion Muslims, living in peace around the world. He did not share our Islam – a religion of learning, compassion and mercy.

"I am a Muslim and I believe that when you pick up a gun in the name of Islam and kill innocent people, you are not a Muslim anymore."
Canada's support for refugees was also a particular focus for Yousafzai, who hinted that the U.S. could learn a lesson from its northern neighbour.
'Welcome to Canada' is more than a headline or a hashtag," she said. "It is the spirit of humanity that every single one of us would yearn for, if our family was in crisis. I pray that you continue to open your homes and your hearts to the world's most defenseless children and families – and I hope your neighbours will follow your example."
Perhaps Yousafzai's most important message, though, was directed towards young Canadians. She hopes they take up the same causes she has dedicated herself to.
"Dear sisters and brothers, we have a responsibility to improve our world," she said. "When future generations read about us in their books or on their iPads or whatever the next innovation will be, I don't want them to be shocked that 130 million girls could not go to school and we did nothing. I don't want them to be shocked we did not stand up for child refugees, as millions of families fled their homes. I don't want us to be known for failing them.

"Let future generations say we were the ones who stood up. Let them say we were the first to live in a world where all girls can learn and lead without fear."
Watch Malala Yousafzai address Canadian Parliament
nike air presto 2017 womens shoes black Fresh Perspective DC7392-300 Release Date