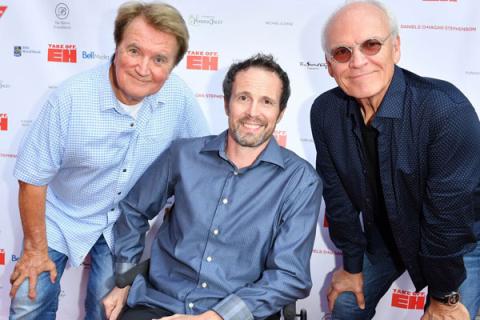 Canadian comedy titans — and we mean titans — took part in an all-star benefit for Spinal Cord Injury Ontario at Second City Toronto's mainstage on July 17, raising $325,000.
Participants included Martin Short in his Ed Grimley and Jiminy Glick characters; Rick Mercer; Dan Aykroyd; SCTVers Eugene Levy, Catherine O'Hara, Rick Moranis, and Dave Thomas; The Kids in the Hall's Dave Foley, Kevin McDonald and Scott Thompson; and musicians Paul Shaffer, Ian Thomas, Murray McLauchlan and Rush's Geddy Lee, who led the room in a singalong of "Take Off."
The event's marquee attraction was a rare reunion appearance by the Bob and Doug McKenzie characters, played by Moranis and Thomas, respectively. The pair decided to put their toques and lumberjackets back on again to help out Jake Thomas, Dave's nephew and son of Ian Thomas. Jake sustained a complete spinal cord injury while snowmobiling in January 2017, which has left him paralyzed from the waist down.
Bob and Doug's 1981 Canadian comedy rock anthem, "Take Off," features Lee belting out the line "Take off! It's a beauty way to go" and they resurrected it for the ticket holders who had shelled out to see this historical gathering of comedy greats, all for a beauty cause.
Spinal Cord Injury Ontario is an organization dedicated to advocacy for and quality of life issues affecting Ontarians with spinal cord injuries. The organization's goals are to "assist people with spinal cord injuries and other physical disabilities to achieve independence, self-reliance and full community participation." Some of the programs they provide include attendant services, employment and education assistance, peer support and public policy advocacy.
"Every day in Ontario, more than one person sustains a spinal cord injury. It is an injury that happens in an instant and can last a lifetime," said Dr. Stuart Howe, CEO for Spinal Cord Injury Ontario, in a press release. "We are beside people as they begin the difficult task of rebuilding their life after injury, offering support, resources and information. This evening was absolutely incredible. As a charity, we rely on donations to continue our life-changing work. This event, and the money raised by it, means the world to everyone in our community and I'd like to extend my heartfelt thanks to the Thomas family, all the celebrities, The Second City and everyone who has made this happen."
Nike