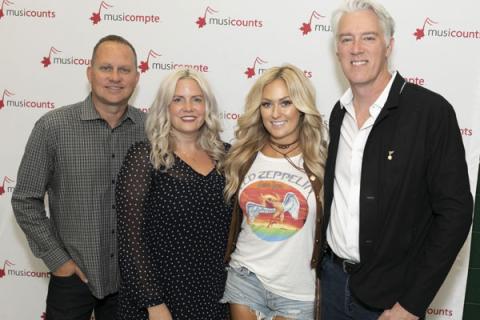 Canadian Country Music Week didn't just bring truckloads of country music star power to Hamilton, Ontario recently, it also brought instruments for school music programs.
To kick off the music week, the city's James MacDonald Elementary school was presented with $5,000 worth of new musical instruments courtesy of the MusiCounts Band Aid Program.
MusiCounts is a music education charity affiliated with the Canadian Academy of Recording Arts and Sciences (CARAS) and the Juno Awards. The Band Aid Program is one of its marquee initiatives, with MusiCounts providing musical instruments and equipment to school music programs across Canada in amounts ranging from $5,000 to $15,000. Since its inception, the MusiCounts Band Aid Program has funded 933 schools by providing them with new musical instruments to the tune of $8.725 million.
Multiple time Canadian Country Music Association (CCMA) winner Meghan Patrick did a surprise performance at the school in addition to presenting the instrument grant on behalf of the CCMAs and SiriusXM Canada.
"I am so thrilled to be here to support MusiCounts and the next generation of Canadian musical talent," said Patrick in a statement. "It was wonderful to perform for the students and I hope the additional new instruments help inspire their passion for music for years to come."
Kristy Fletcher, MusiCounts' executive director, was excited to team up with Patrick.
"With the Canadian Country Music Association and SiriusXM Canada's continued support of MusiCounts, we're able to give youth across Canada access to the incredible benefits of music. We are thrilled to celebrate with Meghan Patrick and the CCMA during Country Music Week in Hamilton."
The 2018-2019 round of MusiCounts Band Aid Program applications opens Sept. 17. Schools hoping to participate in the next round of funding will need to provide things like a musical instrument wish list, supporting statements to explain what they'd like to use them for and information to illustrate their level of need.
(Please support Samaritanmag's original journalism by making a PayPal contribution using the email info@samaritanmag.com so we can increase the amount of content and writers we hire. Samaritanmag is the anti-tabloid, covering good people trying to change bad things)
30 Winter Outfit Ideas to Kill It in 2020 - Fashion Inspiration and Discovery