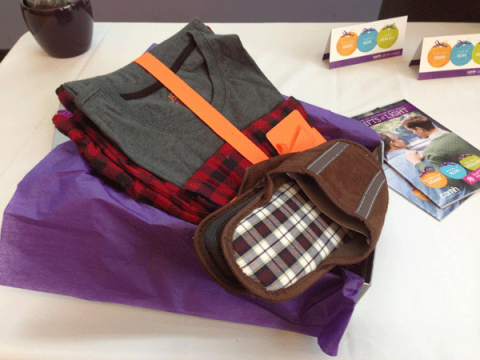 The patients at Toronto's Centre For Addiction and Mental Health (CAMH) say the only gift they are likely to receive this Christmas is from Gifts of Light. The program, which is now offered 365 days a year to honour other celebratory days and cultural and religious holidays, lets those who struggle with mental illness and addiction know that people care.
There are a variety of price points from which to choose on the web site.  For $10, one can give a gift of underwear and socks. For $20, patients can receive a gift certificate for the patient-run Out of This World Café, located on the Queen Street campus, or get a visit from a dog to lift their spirits. For $35, one can choose to give a hat, scarf and mittens set or for $45 a pair of pajamas and slippers.  There are many options.
Diane, an outpatient at CAMH's Archway Clinic for people with Schizophrenia, has been receiving treatment for the past six years. "Before coming to Archway I had no self esteem and no self confidence," she told a roomful of people invited to CAMH for the Gifts of Light 2013 launch.  "Now, thanks to Archway, I have both." She added that Archway gives her a sense of belonging and "for a lot of clients, including myself, Archway is the only family that we have."
Last Christmas, her Gifts of Light present included a winter hat, matching gloves, a scarf, as well as shampoo, conditioner and antiperspirant.
"The Gifts of Light to Archway has made it possible for many of us to truly have a merry Christmas," she said. "The Gifts of Light provides comfort by delivering gifts and hope to those who are greatly in need. To many of us, it is the Santa Claus that goes that extra mile."
CAMH helps 28,000 people annually through its inpatient and outpatient programs and through Canada's only 24/7 mental health emergency department.
Over the past five years, nearly $1.3 million has been raised for Gifts of Light; 628 calling cards were distributed to patients to connect them with friends and family; and 3,645 each of soap, shampoo and conditioner were given out, according to information in the 2013/14 Gifts of Light gift guide. Those are some examples.
"It made me feel warm and happy inside, knowing that there are people like yourselves who actually care," Diane said. "All of my friends felt the same way. We all shared the same excitement in receiving such a gift. For many of us, this was our only Christmas gift. We're all grateful to the Gifts of light for giving a ray of hope to those of us who otherwise feel downhearted at Christmas time."
Fullress , スニーカー発売日 抽選情報 ニュースを掲載!ナイキ ジョーダン ダンク シュプリーム SUPREME 等のファッション情報を配信!