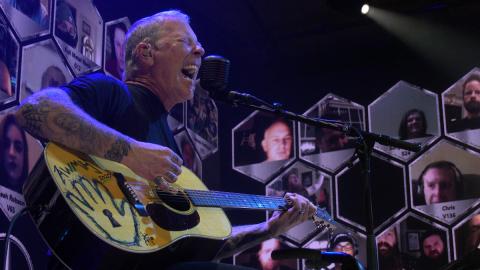 Metallica staged its first worldwide pay-per-view event, the Helping Hands acoustic concert, to benefit its All Within My Hands foundation, on Nov. 14. Fans who didn't see the concert live can still watch it on demand through nugs.tv until 11:59 p.m. PST on Nov. 17. Tickets start at $14.99.
An auction in support of All Within My Hands closes at 5 p.m. PST on Nov. 20. Items available to bid on include: a Zoom call with Metallica; instruments, sheet music, albums, posters and shoes signed by the band members, frontman James Hetfield, guitarist Kirk Hammett, bassist Robert Trujillo and drummer Lars Ulrich.
As of 7 p.m. on Nov. 16, 59 items had attracted bids exceeding a combined total of $261,000, led by $21,500 for James Hetfield's signed Martin D-28 acoustic guitar.
All Within My Hands and Helping Hands merchandise can be purchased here. All net profits go directly to All Within My Hands.
The heavy metal band — which formed in Los Angeles in 1981, has sold more than 125 million records and was inducted into the Rock and Roll Hall of Fame in 2009 — launched All Within My Hands in February 2017. The registered non-profit organization is dedicated to creating sustainable communities by supporting workforce education, the fight against hunger and other critical local services.
Metallica covered all of the expenses to produce the Helping Hands show and all of the money raised, including ticket fees and auction items, go to All Within My Hands.
All Within My Hands has donated $645,000 this year to a number of COVID-19-related relief funds, including Feeding America, Direct Relief and several charities assisting those suddenly without work in the entertainment and hospitality industries. Feeding America is All Within My Hands' primary partner when it comes to combating hunger.
The foundation also donated $350,000 this fall to several agencies to aid those affected by wildfires up and down the west coast of the United States.
All Within My Hands supports workforce education through the Metallica Scholars initiative, which was established in 2019 with 10 community colleges and expanded in 2020 to 15. Schools are selected through a competitive application process and given $100,000 each to use in the manner in which they find most beneficial for their programs.
All of the money donated to All Within My Hands goes to the organizations it supports. The foundation's expenses are paid for by its board of directors and Metallica.
Metallica also has a philanthropic element outside of All Within My Hands, as the group donates a portion of concert ticket sales in every city it visits to a local charity — predominantly food banks.
Girls Air Jordan