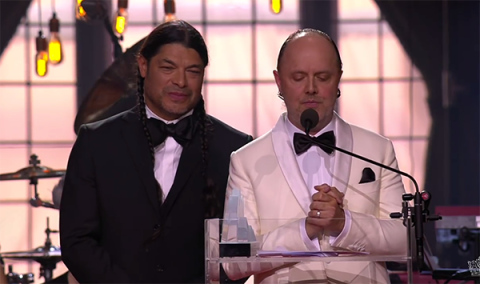 Heavy metal band Metallica have donated their one million Swedish krona ($149,851 CAD) Polar Music Prize award to three different charities, including one fellow Polar winner.

Founded in 1989 by Abba's manager Stig "Stikkan" Anderson, the Polar Prize "celebrates the power and importance of music and is awarded to individuals, groups or institutions for international recognition of excellence in the world of music." Past winners have included musical elite such as Paul Simon, Sting, Björk, Led Zeppelin, Ravi Shankar and Joni Mitchell.

Through Metallica's own All Within My Hands charity the band will be donating 50 percent of their award proceeds towards homeless support organization Stockholm City Mission, while another 25 percent will go to World Childhood Foundation, which was founded in 1999 by Her Majesty Queen Silvia of Sweden to combat the commercial sexual exploitation of children.

Metallica will be giving the final 25 percent of their cash reward to Afghanistan National Institute of Music (ANIM) & Dr. Ahmad Sarmast.  The ANIM was the other announced winner of the Polar Prize this year. The organization uses music to help disadvantaged children in Afghanistan, working primarily with orphans, street-working vendors and girls.

"I would like to say what an honour and a privilege it is to share this award with Dr. Ahmad Sarmast, who through his tireless and selfless endeavors is showing the world how connecting people through music can be both a transformative and a healing experience," said Ulrich in his acceptance speech.
"Who would have thought, when Metallica started this musical journey 37 years ago, that one day we would be standing in front of both musical royalty and actual royalty, accepting one of the most prestigious prizes that can be bestowed upon musicians."

His Majesty King Carl XVI Gustaf of Sweden personally gave Ulrich and Trujillo their award.

While the 2018 Polar Prize winners were announced in February, the band actually received its award on June 14 at a star-studded gala at Konserthuset in Stockholm, Sweden. The event featured Deep Purple's Ian Paice and Roger Glover paying tribute to the band, while members of Ghost, Candlemass, Vargas, Lonely Dear and Refused performed covers of the band's songs.

Watch Metallica's Lars Ulrich and Robert Trujillo receive the Polar Music Prize:
30 Winter Outfit Ideas to Kill It in 2020 - Fashion Inspiration and Discovery