Toronto singer/songwriter Rufus John has created The Freedom Marching Project, a musical, multimedia and fundraising initiative inspired by the Black Lives Matter movement and civil rights activism.
The Black Caribbean-Canadian R&B/soul artist will release the three-song Freedom Marching Project EP on Feb. 4. The project will also feature: two official music videos; an in-studio performance video; a call to action commercial; a three-part behind the scenes documentary series; and a website featuring resources and information.
The Freedom Marching Project's goal is to use the creative power of art, education and activism to honour community leaders who are fighting daily on the frontlines for equity, access, diversity, participation and rights for Black, Indigenous and racialized communities.
It also aims to shed light on the experiences of Black, Indigenous and racialized communities and provide resources and information to those who want to stay informed, become connected and take action.
John is also a certified youth worker and mentor, and his music tells stories about his past as well as issues experienced by young people in order to bring them to the forefront and promote understanding and assist adolescents on their journey through life.
The more than 40 Black and racialized artists, musicians and producers from around Canada that John brought together for The Freedom Marching Project are collectively called United Artists 4 Change.
The Freedom Marching Project EP was produced by Da-Rell Clifton, Gary McAuley, Rufus John and Darren Hamilton, and mixed and mastered by Dan Brodbeck.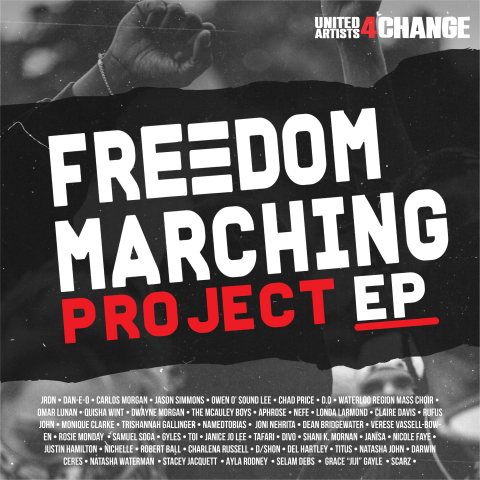 Some of the artists involved were JRDN, Carlos Morgan, D.O, Chad Price, Dan-e-o, Owen "O Sound" Lee, Dwayne Morgan, Quisha Wint, Jason Simmons (Vocal Paint), The McAuley Boys, Nefe, Clair Davis, Aphrose, D/Shon and The Waterloo Region Mass Choir.  
The Freedom Marching Project EP can be pre-ordered here. Details about the rollout of releases and other updates can be obtained by subscribing on The Freedom Marching Project website.
The Freedom Marching Project has partnered with Black Ethiopian queer anti-racism coach, consultant and yoga trainer and studio owner Selam Debs and the Parents of Black Children initiative to create a GoFundMe page where people can donate through February. All of the proceeds will be evenly distributed between The Freedom Marching Project and partners that are combating racism, oppression and discrimination.
Parents of Black Children is focused on creating an equitable and peaceful educational experience for Black students, free from oppression and racism. It provides resources and supports parents as they advocate for their children and navigate the Canadian education system.