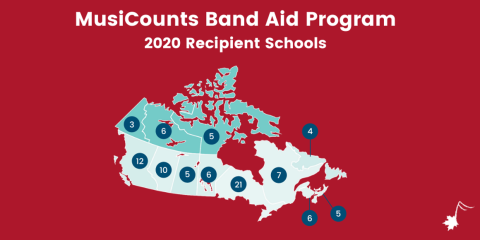 Ninety schools countrywide have received musical instruments and gear worth $900,000 from the MusiCounts Band Aid Program.  MusiCounts is the charity arm of the Canadian Academy of Recording Sciences (CARAS), which puts on the annual Juno Awards, celebrating the best in Canadian music.
The recipients include the Banting and Best School in Calgary, Lynnmour Elementary in North Vancouver, R. B. Russell Vocational High School in Winnipeg, East York Collegiate  Institute in Toronto and Ecole Saint-Paul in Gatineau, Quebec.
The MusiCounts Band Aid Program provides up to $15,000 worth of instruments and equipment to schools in need. The aim is to support young people looking through music and learning instruments to celebrate and explore their cultural identity.
"MusiCounts is proud to support 90 recipient schools this year - congratulations to all the music programs. However there is still work to be done, and reading through many applications we received this year was heartbreaking," said MusiCounts executive director Kristy Fletcher in a statement. "Whether schools have no instruments at all, or are struggling with collections of instruments that are in disrepair, students deserve to experience the benefits of music education in their school,"
Elementary schools, junior high schools, high schools, secondary schools and separate schools are eligible to apply for support from MusiCounts, whose mission is to ensure that children in Canada, regardless of socio-economic circumstances or cultural background, have access to music programs through their schools.
"We celebrate musical excellence, and put instruments into the hands of children who need them most," MusiCounts says on its website.
The MusiCounts Band Aid program has to date handed out $9.7 million worth of instruments and gear to 1029 schools. 
Music education continues to decline across Canada because fewer schools and communities have required funding, it says on ithe web site.  In 2019, MusiCounts received over $6 million in school instrument requests, but could only help 1 in 5 schools that requested support, leaving a significant gap to be filled.
This year's recipients are:
Banting and Best School – Calgary, AB
Belmont School – Edmonton, AB
Cold Lake High School – Cold Lake, AB
Kikino Elementary School – Kikino Metis Settlement, AB
Mayfield Elementary School – Edmonton, AB
O.S. Geiger – Calgary, AB
Riverview Middle School – Devon, AB
Rocky Lane School – Fort Vermilion, AB
St. Wilfrid School – Calgary, AB
Upper Hay River School – High Level, AB
District 42 Alternate Secondary – Maple Ridge. BC
Duncan Cran – Fort St. John, BC
École Franco-Nord – Prince George, BC
John A. Hutton Elementary School – Grand Forks, BC
Lakeview Elementary School – Burnaby, BC
Learning ALternatives – Nanaimo, BC
Lillooet Secondary School – Lillooet, BC
Lynnmour Elementary School – North Vancouver, BC
Prince George Secondary School – Prince George, BC
Purpose Secondary School – New Westminster, BC
Rutland Senior Secondary – Kelowna , BC
Terry Fox Elementary – Abbotsford, BC
Cecil Rhodes School – Winnipeg, MB
Cormorant Lake School – Cormorant, MB
Falcon Beach School – Falcon Lake, MB
George Saunders Memorial – York Landing, MB
Joe A. Ross – Opaskwayak, MB
R. B. Russell Vocational High School – Winnipeg, MB
Assiniboine Avenue Elementary School – Oromocto, NB
École Aux quatre vents – Dalhousie, NB
Elsipogtog School – Elsipogtog First Nation, NB
Glen Falls School – Saint John, NB
Salisbury Elementary School – Salisbury, NB
Seaside Park – Saint John, NB
Gros Morne Academy – Rocky Harbour, NL
Holy Family Elementary – Chapel Arm, NL
Mushuau Innu Natuashish School – Natuashish, NL
St. Teresa's Elementary – St. John's, NL
Alderney Elementary School – Dartmouth, NS
Coxheath Elementary – Sydney, NS
École Burton Ettinger Elementary – Halifax, NS
Holland Road Elementary School – Fletcher's Lake, NS
Walter Duggan Consolidated School – Westville, NS
Charles Tetcho School – Trout Lake, NWT
Chief Albert Wright School – Tulita, NWT
East Three School – Inuvik, NWT
Líídlįį Kúę Elementary School – Fort Simpson, NWT
Líídlįį Kúę Regional High School – Fort Simpson, NWT
Mangilaluk School – Tuktoyaktuk, NWT
Attagoyuk Ilisavik – Pangnirtung, NT
Inuglak School – Whale Cove, NT
Kullik Ilihakvik Elementary School – Cambridge Bay, NT
Nuiyak School – Sanikiluaq, NT
Tusarvik School – Naujaat, NT
Anson S. Taylor Junior P.S. – Scarborough, ON
Bliss Carman Senior. P.S. – Scarborough, ON
Cathy Wever Elementary School – Hamilton, ON
C.R. Marchant Middle School – Toronto, ON
East York Collegiate Institute – Toronto, ON
F.D. Roosevelt Public School – London, ON
Georgian Bay District Secondary School – Midland, ON
Henry Coaster Memorial School – Ogoki, ON
Hess Street School – Hamilton, ON
Hillcrest Elementary School – Hamilton, ON
James Keating Elementary School, ON –
Penetanguishene, ON
Lakeshore Collegiate Institute – Toronto, ON
Lord Elgin P.S. – London, ON
Our Lady of Guadalupe Catholic School – Toronto, ON
Richard Pfaff Secondary Alternate Program – Ottawa, ON
Rosemount – Petersburg, ON
Simon Jacob Memorial Education Centre – Webequie, ON
St. Roch Catholic School – North York, ON
St. Elizabeth Seton Catholic School – Scarborough, ON
St. Wilfrid Catholic School – Toronto, ON
Urban Aboriginal Alternate High School Program, ON –
Ottawa, ON
Badabin Eeyou School – Whapmagoostui, QUE
École des Cheminots-de-Saint-Rémi – Price, QUE
École Hubert-Perron – Longueuil, QUE
École Saint-Mathieu – Québec, QUE
École Saint-Paul – Gatineau, QUE
James Bay Eeyou School – Chisasibi, QUE
Onslow Elementary School – Quyon, QUE
Chief Napew Memorial School – Pierceland, SK
Consul School – Consul, SK
Lake Vista Elementary School – Martensville, SK
Riverside Public School – Prince Albert, SK
St. Michael Community School – Saskatoon, SK
Christ the King Elementary School – Whitehorse, YUK
Del Van Gorder School – Faro, YUK
Robert Service School – Dawson City, YUK
newest nike shoes for girl CD0463-401 – Buy Best Price Adidas&Nike Sport Sneakers