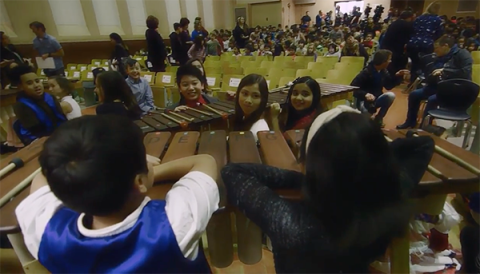 MusiCounts, Canada's music education charity associated with The Canadian Academy of Recording Arts and Sciences (CARAS, the organization behind the Juno Awards), has announced it will be donating $725,000 worth of musical instruments across 80 Canadian schools as part of the MusiCounts Band Aid Program.
Since 1997, it has donated more than $10 million dollars worth of instruments and gear to more than 950 schools and community programs.

MusiCounts has a mission to "ensure that children in Canada, regardless of socio-economic circumstances and cultural background, have access to music programs through their schools and communities."The MusiCounts Band Aid program provides musical instruments in increments of $5,000 or $10,000 to school music programs in need. One school, the Conrad Fitzgerald Academy in English Harbour West, NL, received $20,000 via the related True North: The Canadian Songbook Band Aid Grant, a donation from the project's creator Eleanor McCain, a singer and heir to McCain Foods.

Broken down by province, Ontario schools received the most support.
Alberta: 7
British Columbia: 14
Manitoba: 5
New Brunswick: 3
Newfoundland and Labrador: 4
Quebec: 5
Nova Scotia: 5
Northwest Territories: 1
Ontario: 29
Prince Edward Island: 1
Saskatchewan: 5
Yukon: 1

See the full list of recipient schools.

MusiCounts runs a number of other initiatives including the MusiCounts Teacher of the Year Award, an award that presents a $10,000 cheque to the school of one excellent music teacher each year, the Community Music Program, which donates equipment and instruments to community centres and after-school programs, and the MusiCounts Ambassador Award, which goes towards a person who has had a great, charitable impact.

A free Juno Week concert at Vancouver's Art Gallery Plaza March 24 will celebrate the new round of donations. Performers will included the MusiCounts StarBand, a collection of Vancouver-area music students, as well as special guests and past Juno Award winners Dear Rouge. The Juno Awards takes place in Vancouver on March 25, and will be broadcast and streamed live, via CBC.

Watch MusiCounts donate $10,000 worth of instruments to Vancouver's Sir Alexander MacKenzie school:
【正規品】最新のナイキ メンズ レディース スニーカー通販