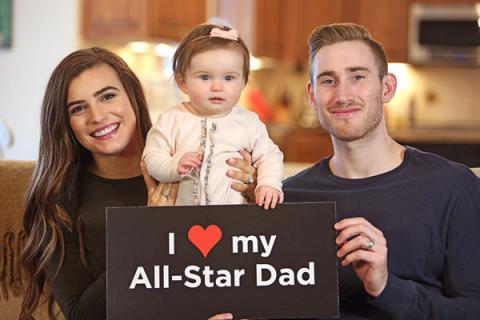 National Basketball Association (NBA) players Chris Bosh from the Miami Heat, Draymond Green from the Golden State Warriors and Gordon Hayward from the Utah Jazz are hoping to score a different sort of slam dunk as the athletes have attached their names to #LeanInTogether, the newest equality campaign from the Lean In empowerment movement.
Jumpstarted by Lean In: Women, Work, and the Will to Lead, a book written by Facebook chief operating officer Sheryl Sandberg in 2013, the Lean In movement has the express goal of empowering women to achieve their ambitions. It's become a community organization that provides educational resources and programming to encourage female leadership.
The new #LeanInTogether campaign is about how men can support the women in their lives to the benefit of everyone. The #LeanInTogether campaign identifies four distinct areas where men can be better allies: All-Star Dad, which illustrates how being an active, helpful father  benefits the whole family; 50/50 Partner, which shows how relationships which share household responsibilities more equitably are stronger; Workplace MVP, which encourages men to support their female colleagues in the workplace; and Stand-Up Guy, where men encourage and support the women in their life and challenge gender bias.
"Men leaning in is a win-win proposition," said Sheryl Sandberg, Facebook COO and founder of LeanIn.Org, in a press release. "When men are dedicated fathers and partners, they have healthier, happier children and stronger relationships. When they stand up for gender equality at work, they outperform their peers. Equality is not just the right thing for men—it's the smart thing."
Bosh, Green and Hayward, who are joined in the campaign by Becky Hammon, the second woman to ever coach in the NBA, are taking Sandberg's message to heart.
"I want my wife to feel supported in her career, just like I want my daughters to grow up knowing they can be anything they want to be," said Bosh, a two-time NBA champion, 11-time NBA all-star and Olympic gold medallist. "I'm proud to be part of this campaign because it highlights something men know intuitively—we all benefit from a more equal world."
For Green, a past NBA champ and all-star, it's about lessons learned from his mother.
"My mother taught me the important values in life, and it's her support that got me to where I am today," said Green. "I support equality for men and women—we've come far but there is so much further to go."
Hayward has family in mind when he supports #LeanInTogether.
"I want the best for my daughter because I love her," said Hayward. "Spending time with her now will help her succeed in the future by giving her the confidence that no matter what issue she faces, I will be there for her. She can always count on me."
For Hammon, an assistant coach with the San Antonio Spurs, it's about results.
"Coach Pop (Gregg Popovich) didn't care that I was a woman," said Hammon, explaining her role with the team. "What he cared about was whether or not I could help the team and do the job. I happen to be female, but leadership knows no gender."
There's definitely a need for men to #LeanInTogether to create a more equitable world. According to Lean In, although women represent 50 per cent of college graduates in the United States, they still constitute just 4 per cent of S&P 500 CEOs and hold only 19 percent of U.S. congressional seats. Although 70 percent of women work outside the home, they continue to do a majority of the child care and housework. Considering that children with involved fathers are happier, healthier, and more successful, and that workplaces with diverse teams and produce better results, there are some obvious benefits to fighting for a more equal world.
NBA commissioner Adam Silver says the league wants to help do its part in this regard.
"Teamwork, integrity, and respect are core values of the NBA, WNBA and LeanIn.Org, and we are proud to continue our partnership with the #LeanInTogether campaign," said Silver. "We are excited to build on our work with Sheryl and her team to support inclusion and equality for men and women at home, in the workplace, and in our communities."
Nike Air Max 270