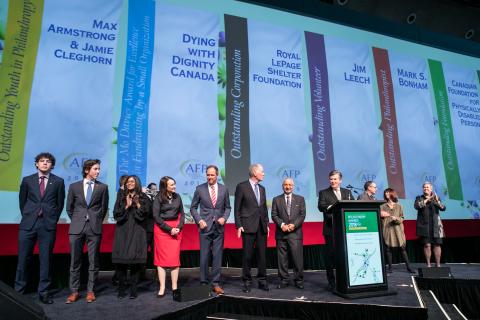 Wealthy benefactors, organizations that make a difference and a pair of enterprising teenagers who raised $150,000 towards helping youth who suffer from diabetes were among those lauded by the Greater Toronto chapter of the Association Of Fundraising Professionals (AFP) during their 24th Annual Philanthropy Awards luncheon.
Hosted by veteran television personality Gord Martineau at the Metro Convention Centre on Nov. 22, the nine 2018 honourees have each made a significant mark with their dedication and generosity in better the communities around them.
Award winners included: Outstanding Philanthropist: Mark S. Bonham; Outstanding Volunteer: Jim Leech; Outstanding Corporation: Royal LePage Shelter Foundation ; Outstanding Foundation: Canadian Foundation for Physically Disabled Persons, Mo Davies Outstanding Small Organization: Dying with Dignity Canada Outstanding Youth in Philanthropy: Jamie Cleghorn & Max Armstrong
Lifetime Achievement Award: Rivi Frankle; and Outstanding Fundraising Professional: Cathy Mann, CFRE
At the top of the two-and-a-half-hour luncheon, AFP Greater Toronto area president Caroline Riseboro praised the award recipients as those who have "taken the road of courage, the road less traveled" and "fought against the grain."
"They've let their hope guide them as they hope for a better reality for so many folks," she said.
As each award recipient was presented with a framed plaque commemorating their achievement, an accompanying tribute video was aired that articulated their accomplishments and motivation.
Outstanding philanthropist Mark S. Bonham, who has been a pillar of support for the LGBTQ community, has donated more than $10 million towards arts, education and health, including a generous $2.5 million towards the expansion of the HIV/AIDS specialty hospital Casey House.
"I was drawn to Casey House because being a gay individual, I wanted to have impact the community that would be very positive and be long-term," he explains in the video. "At the time there was tremendous stigma and stereotypes attached to HIV/AIDS – and there still is – and I felt that my participation with Casey House could help change that and improve the lives of those who did have HIV/AIDS."
Bonham, who has been active in philanthropy since he was 11, also helped raise $10M towards the establishment of Egale Centre, a new building  dedicated to homeless LGBTQI2S youth that will open in summer 2019; established The Mark S. Bonham Centre for Sexual Diversity Studies at the University of Toronto; and serves on the board of directors among We Are the Villagers,  a program that financially assists children from Northern Ontario low-income homes to participate in recreational and cultural extra-curricular programs.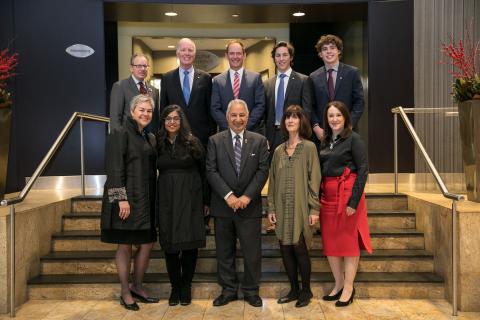 That's just a partial list of his accomplishments.
"I follow that philosophy based on that classic notion of giving back," said Bonham. "I truly believe that those who are more fortunate in life should help out those who are not."
The Royal Lepage Shelter Foundation, beneficiary of the Outstanding Corporation honours, has actively raised $27M to support organizations that address the issue of intimate partner violence, including the funding of  several women's shelters and programs dedicated to the prevention of domestic violence.
Foundation executive director Shanan Spencer-Brown says that Royal LePage offices pair with their local women shelters in their community, and their agents donate a portion of their sales commissions, organize fundraisers, provide in-kind donations and volunteer.
"Many of the shelter staff that we work with have told us that they're so appreciative of Royal LePage agents standing with them as allies in the fight against violence against women, it makes them feel less alone in the important work that they're doing," said Brown in the video.
The Outstanding Foundation – the Canadian Foundation for Physically Disabled Persons (CFPDP), has been in operation for 32 years, helping those living with disabilities help live life to the fullest.  What's perhaps even more remarkable than CFPDP raising $35 million is the fact that it's run by a full-time staff of only two people.
"It is meant to improve the lives of people with disabilities, focus on their abilities and to make Canada the best country in the world for people with disabilities," says founder Vim Kochar.
Lifetime Achievement Award recipient Rivi Frankle has spent 40 years as an important fund raiser for university and research with a career that began at the University of Toronto and has been responsible for raising more than $1.8 billion towards the cause.
"Higher education is hugely important to me, for the opportunities it creates and for the lives it helps set in motion," said Frankle on the video. "For the most part, my career has been with the universities."
Just as important, Frankle has inspired and mentored many to follow in her footsteps, including her daughter Sasha Manes, who is the Manager of Major Gifts and Stewardship at YWCA Toronto and was previously named by the AFP as an Outstanding New Professional.
 "I think her imprint is exponential, because not only has she raised over $1B, but she's mentored all of these fundraisers, including myself."
Jim Leech has held a number of important executive positions ranging from Chancellor at Queen's University to Board Chair at the Toronto General & Western Hospital Foundation, but when he retired as President and CEO of the Ontario Teachers' Pension Plan in 2014 and embarked on a skiing fundraiser to the North Pole to help raise $2M towards Post-Traumatic Stress Disorder awareness and recovery, he decided to dedicate his time fully to philanthrophy.
"Throughout my entire business career, I always encouraged people who I work with to become involved with the community, find a passion and get something to do that's out of the office and totally different from what they're doing on a day-to-day basis, because it makes you a fuller, more well-rounded person," said Lee, a member of the Order of Canada and the AFP's 2018 Outstanding Volunteer.
Leech  has spearheaded numerous campaigns and raised nearly $2B for various causes ranging from the Toronto General & Western Hospital and the Smith School of Business to the Mastercard Foundation and the True Love Patriot Foundation.
Dying With Dignity Canada, the recipient of the Mo Davies Outstanding Small Organization award, has faced an especially tough hurdle to overcome since 2015, when it lost its charitable tax status.
Since the Supreme Court of Canada has approved and legalized the right to die and legalized medical assistance in dying, the DWDC has managed to overcome the setback and increased their monthly donor base from 75 to over 1,000 contributors.
"We take a very integrated approach – we use the lens of human rights and we put the person first, but we're also sensitive in terms of the advocacy approach and the fundraising lens, and I think when you combine those things and are working ethically at putting the person first, it becomes a message that resonates with Canadians across the country," explained DWDC CEO Shanaaz Gokool in the video.
This year's Outstanding Youth in Philanthropy Award winners – best friends Max Armstrong and Jamie Cleghorn, the latter who suffers from type 1 diabetes – first started a lemonade stand to raise awareness for diabetes research when they were 7 years old.
Ten years later, Cleghorn and Armstrong have since partnered with Diabetes Canada and are currently on track to raise $150,000 across Ontario this year with their "Lemonade Stand In a Box" campaign, that enables other individuals to help "Put the Squeeze on Diabetes" and send kids to special summer D-Camps designed for children with type 1 diabetes.
In an interview with Samaritanmag, Jamie Cleghorn says that D-Camps – since all the campers and the majority of staff have diabetes – include 24-hour medical supervision.
"Over the past nine years I've been going to Diabetes Camps myself, and I've seen the firsthand experiences of how well they affect kids with diabetes.
Max Armstrong says their fundraising efforts have given kids with diabetes from low-income households an opportunity to experience community.
"We've seen that the kids who have been unable to afford to go to this camp, can now go and experience the experiences that Jamie was able to have – and make lifelong friendships with people at the same time."
For 24 years, Outstanding Fundraising Professional Cathy Mann, president of Cathy Mann & Associates Inc., has been involved in making a difference in social change philanthropy.
The Certified Fund Raising Executive (CFRE) has served as a teacher and consultant, specializing in "raising money for often complex, intractable social issues."
As the only award recipient who delivered an acceptance speech, Mann outlined the differences and the difficulties that separate social change philanthropy from more traditional fundraising.
"For those of us who work on the front lines of social change, our experience of raising funds is different than our colleagues who work in more traditional philanthropy," she explained. "The model that we're all accustomed to has us and donors in this delicate dance. We tell donors what the outcomes are going to be if you donate to us: you give us 'x' amount of dollars and we'll create new shelter beds or build a hospital or a school.
"In social change, we need donors to come on a journey that often has no pre-determined outcomes. It could be difficult to make a case in advance that your donor dollar will be to help your communities or less hunger or less homelessness within your community, because change is messy and complex and unpredictable. It's labour-intensive and process-heavy. And you're never quite sure whether it's going to proceed  or where it might end up. So, the sector really needs donors who will go on the journey of change alongside the causes they care about and invest their philanthropic dollars in messiness and unpredictability that is social change…
"In an era of #MeToo, climate change, mass shootings, growing inequality, the rise of populism and the politics of hate; at a time when the LGBTQ community in Tanzania are being hunted down and jailed; it's possible that we have never been needed more than ever. While philanthropy will not singlehandedly solve all of these issues, it's one tool among many that can be used. It's time to harness philanthropy and support activists who have been working smart to support change."
In closing, it was an event that gives recognition to tireless, selfless individuals who don't require any to do the good deeds they do, but just strive to offer those less fortunate a better life and future.

(Please support Samaritanmag's original journalism by making a PayPal contribution or EMT transfer using  info@samaritanmag.com so we can increase the amount of content and writers we hire. Samaritanmag is the anti-tabloid, covering good people trying to change bad things. Let's make this thing bigger than TMZ.)
Air Jordan