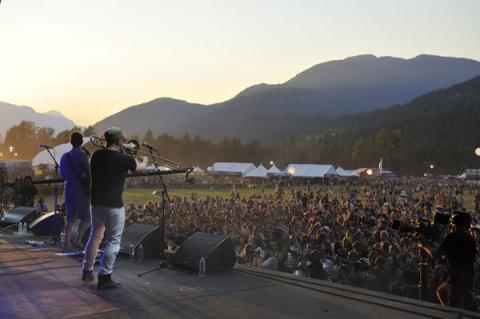 Huka Entertainment, the company behind the Pemberton Music Festival, is giving back to the British Columbia village that hosts the massive music event in the form of more than $100,000 in grants spread across 17 different local arts and community organizations.
A scenic mountain village of roughly 2,200, Pemberton's numbers swell during the festival, which boasted an attendance of more than 115,000 people last year when Kendrick Lamar, The Black Keys and Weezer headlined the multi-day event. Evan Harrison, the CEO of Huka Entertainment, says it's important for his company to give back to the community.
"The way we look at it is when we bring a huge music celebration to a beautiful spot in an amazing community like Pemberton we not only want to turn all of the fans on to the beauty of Pemberton, we want to be sure that we leave Pemberton as clean and beautiful as it was — so no footprint," Harrison told Samaritanmag. "And finally we want to give a little shot in the arm to the arts community and give back something for making available that gorgeous backdrop for a music festival."
Grant recipients were determined by the Pemberton Music Festival Community Fund, an eight-member committee that includes representatives from the Pemberton, the festival and the nearby Lil'wat Nation, amongst others.
Being able to give back to the local arts community is particularly valuable to Huka.
"It's absolutely tremendous to be able to fund local arts organizations," says Harrison. "When an event this large comes to town it not only brings a lot to the community, it also puts some strain on the community. So to really amplify the message of how amazing a place Pemberton is for people who have not experienced it otherwise, and to leave it as pristine and as beautiful as it was before the event, those are two positives right there. But then to be able to donate $100,000 to arts-related causes is just fantastic."
The money for the grants is based on a portion of the proceeds from ticket sales to the festival. Huka, who also host music festivals in a number of locations across the southern United States, contribute to causes in other communities as well.
"Huka focuses on creating large scale festivals in destination locations," says Harrison. "That's our niche, that's what we do. As an example we have a festival on the beach in Ft. Lauderdale called Tortuga. Last year was the third year and we've donated a couple hundred thousand dollars to ocean preservation through our partner Rock The Ocean. So this isn't a one-off. Part and parcel of what we do is we pick a beautiful location that is an amazing place to be in, then we bring a music festival to it.
"So it's really important to us that we respect the beauty of the location we're choosing. And we find some way to enhance, preserve and conserve, and in this case, inject some funding into the arts."
The 2016 of the Pemberton Music Festival will take place July 14-17. Performers have yet to be announced. Applications for the next round of Pemberton Music Festival Community Fund grants must be submitted by September 30, 2016.
Below are the 17 grant recipients:
Growing Great Children ("Music Together")
Interact Club ("Model UN Conference")
Lower Stl'atl'imx Tribal Council ("Transportation Support")
Pemberton Arts & Culture Council ("Public Awareness Campaign")
Pemberton BMX Society ("Lock-up and Safety Fencing")
Pemberton Childcare Society ("Playground Resurfacing")
Pemberton Farmers' Market Association ("Nutritional Coupon Program")
Pemberton Gymnastics ("Gymnastics Equipment")
Pemberton Secondary School ("Garden Program")
Pemberton Valley Seniors Society ("Bowling for Life and Art")
Royal Canadian Legion Branch #201 ("Building Renovations")
Sea to Sky Clean Air Society ("Burn Smart Workshops")
Signal Hill Elementary School ("Kitchen Connections" and "Breakfast and Lunch Program")
Signal Hill Elementary Parent Advisory Committee  ("iGirl and iGuy Workshops")
Spirit of BC Community Committee ("Winterfest Kid Zone")
Stewardship Pemberton ("Watershed Model")
Village of Pemberton ("One Mile Lake Park Improvements")
Supreme