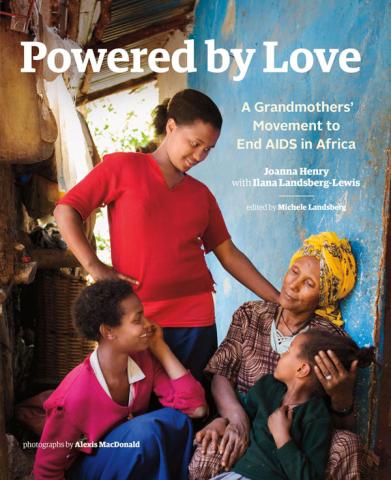 For more than a decade a coalition of grandmothers from Canada and Africa have come together under the "Grandmothers Campaign" supported by the Stephen Lewis Foundation with the express goal of combating AIDS in Africa.
Now those same grandmothers have come together in the 296-page photo essay book Powered by Love: A Grandmothers' Movement to End AIDS in Africa to raise money for the cause.
The book, created by author Joanna Henry and photographer Alexis MacDonald, with Stephen Lewis Foundation executive director Ilana Landsberg-Lewis, is selling for $35 USD/CAD. Proceeds are going to the Stephen Lewis Foundation.
Started in 2003, the Stephen Lewis Foundation works with small community organizations in Africa. To date the organization has teamed with over 300 groups in 15 different countries on 1,400 different initiatives.
In many African communities ravaged by AIDS it's often the grandmothers who have to provide the care and support for the young. The Powered by Love book features interviews and photographs with grandmothers who've frequently had to step in to help save these communities in the wake of the AIDS crisis.
"We thought we knew what was happening in Africa when the AIDS pandemic raged across the continent, sweeping away 35 million lives," said Powered by Love's editor Michele Landsberg, in a statement. "But we never knew it the way this book reveals it, in the shockingly intimate voices of the grandmothers who had to rescue their orphaned grandchildren when no one else was left alive. These voices will leap straight into your heart. Their unguarded faces, in portraits that glow with character, pain and humour, will captivate you."
Since starting the Grandmothers Campaign, Canadians have donated more than $27 million to AIDS prevention causes. Some of which include providing food, educational supplies, uniforms and school fees, medical care, HIV counseling and testing, adequate housing and bedding, support groups, home visits and more.
The air travel rewards program Aeroplan treats the Stephen Lewis Foundation as one of its approved charities for members to donate miles to. Since 2006, donated Aeroplan miles have been used to help Canadian and African grandmothers meet up for things like the first-ever Grandmothers Gathering prior to the International AIDS Conference.

WIN A COPY OF THE BOOK BY SIGNING UP TO SAMARITANMAG'S MAILING LIST HERE AND EMAILING INFO@SAMARITANMAG.COM WITH THE SUBJECT "GRANDMOTHERS" AND THE NAME OF THE FOUNDATION THAT PRODUCED THE BOOK. CONTEST CLOSED WEDNESDAY DEC. 20 AT 11:59 PM EST. OPEN TO U.S. AND CANADIAN RESIDENTS ONLY.
Watch a documentary video about Powered by Love
Air Max