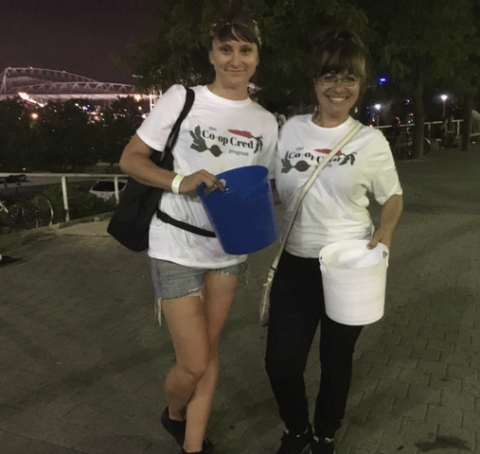 Concert-goers at the Toronto Prophets of Rage concert at Molson Amphitheatre in late August helped raise close to $3000 for Parkdale Activity-Recreation Centre (PARC) and its Co-op Cred program.
"People have been very caring and very respectful and very compassionate," one of the seven volunteers, Maria Santos, told Samaritanmag after the show. "A lot of people were saying, "I understand; I have a friend who has mental illness' or 'I know someone know has an addiction.' People were very generous, very sweet."
The politically and socially conscious new supergroup — comprised of Rage Against the Machine guitarist Tom Morello bassist Tim Commerford and drummer Brad Wilk; Public Enemy's Chuck D and DJ Lord; and B-Real from Cypress Hill — is giving a portion of the proceeds from each show to a local homeless charity.
The 30-date tour which began Aug. 19 wraps up Oct. 16 in Chula Vista, Calif.
PARC works with members on individual issues of poverty, mental health, addictions, homelessness and food security. Co-open Cred is just one of the programs offered: "In exchange for their labour, participants earn coop creds that can then be used to purchase local, healthy food at the West End Food Coop or the Sorauren Farmers Market."
At the Aug. 24 Toronto show, Morello mentioned PARC onstage.  Outside the venue, volunteers in white Co-op Cred t-shirts collected donations in buckets before and after the concert.
Inside the venue at the merch booth, there was a collection box on the counter with a sign reading "Prophets of Rage is donating a portion of proceeds from tonight's show to PARC."
The logo, PARC re: Building Lives, followed, and then information on the charity: "PARC's Co-op Cred program provides low-income and marginalized people with a wide range of social, health, economic and environmental benefits that inprove livelihoods. Find out more at http://www.coopcred.org."
The PARC website reported the final tally Sept. 3 on its web site.
"This was all thanks to the American charity, WhyHunger, and the rap metal music group Prophets of Rage," it read. "The charity connects touring musicians with local initiatives in the cities they are performing. The band chose to support PARC and the Co-op Cred Program, and called the audience to donate to the cause throughout the evening. The participants did an amazing job engaging with the crowd of 14,000 people and collected $2848.20 that will be turned into cred earned through meaningful community work."
According to its web site, "WhyHunger is a leader in building the movement to end hunger and poverty by connecting people to nutritious, affordable food and by supporting grassroots solutions that inspire self-reliance and community empowerment."
Prophets of Rage was assembled as "a politically-charged response to 2016's tumultuous election year," it says in the Live Nation press release announcing the Make America Rage Again Tour and is described by Morello as an "elite task force of revolutionary musicians determined to confront this mountain of election year bullshit."
The band released a self-titled EP through Caroline Distribution.
『アディダス』に分類された記事一覧