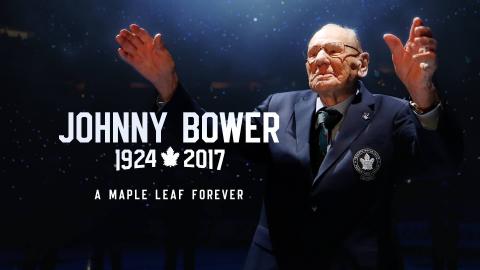 In lieu of flowers, fans of legendary Toronto Maple Leafs goaltender Johnny Bower, the founding namesake of the Johnny Bower Foundation and avid supporter of numerous charities, can make a donation in his name to Trillium Health Partners – Credit Valley Hospital or the Mississauga Humane Society.
Bower, who passed away Dec. 26 at the age of 93,  will be honoured with a public life celebration at Toronto's Air Canada Centre on Jan. 3, from 3 p.m. to 5 p.m. with doors opening at 2 p.m.  The private viewing is the following day.
"There's not a single player in Toronto Maple Leafs history that has done more appearances or more charity events and charity work than Johnny Bower," Toronto Maple Leafs president Brendan Shanahan told reporters during a press conference the morning of his passing.
A Hockey Hall of Fame goalie known as "The China Wall," the Prince Albert, Saskatchewan native played for the National Hockey League's Maple Leafs from 1958-1969, helping them win four Stanley Cups (three of them consecutively in 1962-64, and in 1967 in tandem with teammate Terry Sawchuk.)
He's also a two-time Vezina Trophy winner as the league's best goalie, and his lifetime record of 552 games played, 250 wins, 195 losses, 90 ties, 37 shutouts and a 2.51 Goals-Against-Average, retiring on his 45th birthday after playing his final game in December 10, 1969 6-3 loss against Montreal Canadiens. The majority of those games were played without wearing a hockey mask.
But it was his off-ice activity for which Bower was also praised and remembered: he tirelessly supported countless charities from the Anishinabek Nation 7th Generation Charity in Nipissing to the Kidney Foundation of Canada, from the Arthritis Society to the Canadian Lyme Disease Foundation, with appearances and donations.
Bower, who also served in the Canadian army in World War II, also visited veterans at Sunnybrook Hospital.
A lifelong Maple Leafs ambassador, Bower would be there for whenever the team needed him.
In a CBC interview, Bower's grandson, John Bower III, said the hockey legend taught his grandchildren "to always look out for those who are less fortunate than us."
"He always felt that it was important, as he gained notoriety and financial stability, to give back to others and help other people along the way, by giving time, money or even just a kind word."
THE SNEAKER BULLETIN