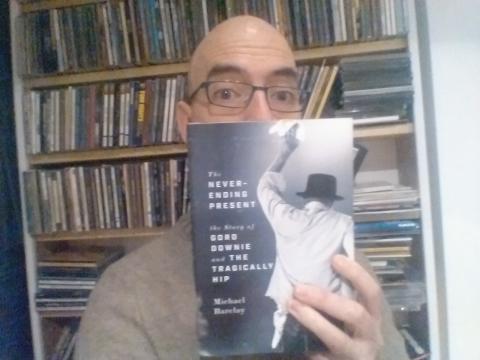 The Tragically Hip might at least be pleased that a portion of the proceeds from the sale of Michael Barclay's new book, The Never-Ending Present (ECW Press), about the Canadian rock band and its inimitable late frontman Gord Downie — who passed away in October from brain cancer at age 53 — is going to two national charities, environmental law group EcoJustice and 119-year-old literacy advocates Frontier College.
"That was never really a question for me. It's just what you should do," Barclay tells Samaritanmag.
(Update: on Twitter, the band's Rob Baker has made it clear the book was not endorsed by members of The Tragically Hip: "Unofficial means we did not cooperate or corroborate," he writes. "From what I've seen some of it is straightforward, much opinion and much laughably wrong." Barclay, at the start of the book, says "They were invited to participate in this project; they declined," also adding "the band declined a request to review a fact-checking document for this book.")
Ecojustice formed in 1990. Its lawyers have represented community groups, non-profits, First Nations, and individual Canadians on the frontlines of the fight for environmental justice, and achieved legal precedents that "keep harmful substances out of the environment, protect wilderness and wildlife and take aim at climate change."
Frontier College believes literacy is a right. Low literacy skills are directly linked to poverty, poor health, and high unemployment.  Its volunteers provides programming to improve literacy in communities across Canada.
There is also a charitable component associated with all of Barclay's promo appearances and events for The Never-Ending Present: The Story of Gord Downie and The Tragically Hip.
Lake Ontario Waterkeeper received a portion of the cover charge at the Toronto book launch at the Horseshoe Tavern and had a table set up inside, selling its clean water initiative Swim Drink Fish t-shirts, alongside Frontier College which had assorted pamphlets about their work.  The author has events all over Ontario with more to be added (see listing here).
While the members of The Hip were hugely, yet quietly, philanthropic during their 30-year history, except for a handful of bigger profile events, such as the concert for War Child Canada in Winnipeg in 2000 and Downie's decade-long support of Lake Ontario Waterkeeper for which he was a board member, it wasn't until the final year or so of his life that he became very public about his advocacy for Indigenous Peoples, launching The Gord Downie & Chanie Wenjack Fund, a call to action for reconciliation.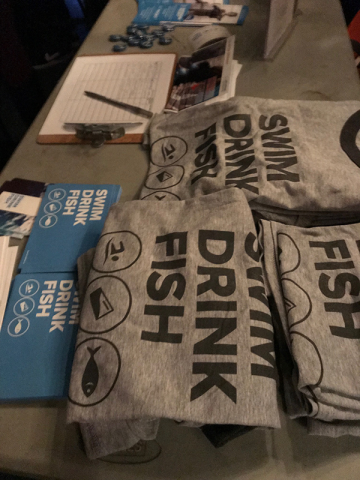 Barclay — who wrote extensively about The Hip's final tour in 2016 for Maclean's magazine, and co-authored 2001 and 2011's Have Not Been the Same: The Can-Rock Renaissance 1985-1995 (ECW) — has always selected a charity or two for his book projects. He has donated to at least 10 organizations from Camp Trillium for kids with cancer to The Centre for Addiction and Mental Health and Kids Help Phone. He tells Samaritanmag why.
Why did you decide to donate a portion of your proceeds?
That was never really a question for me. It's just what you should do. My previous book, Have Not Been the Same, about Canadian music from 1985-95, had a sold-out book launch at Lee's Palace in 2001 that benefited the Daily Bread Food Bank. When the book was reissued in 2011, again with a launch at Lee's, it was a benefit for CAMH [The Centre for Addiction and Mental Health] —because mental health and addiction are issues that touch every musician I know, either directly or indirectly. I assembled a tribute album to that era of music that also benefited CAMH; my co-author Jason Schneider put out an album of the era's rarities that benefited Kids Help Phone. 
More recently, I've been very inspired by what Marika Anthony-Shaw and Arcade Fire have done with their Plus One initiative, which really is a no-brainer: an artist can raise thousands--or millions, in Arcade Fire's case--of dollars for their favourite causes just by adding a dollar to the price of every ticket, and all the artist and the audience have to do is show up. 
When it came to writing about The Tragically Hip, philanthropy has always been a huge part of their modus operandi, right from day one, as anyone in Kingston can tell you—every hometown show they played after 1989 was a benefit for a local charity. In the early days of Camp Trillium, for children with cancer, the Tragically Hip brought in about a quarter of the organization's operating revenue in 1994. The Hip helped launch War Child Canada in the public eye by playing a free show in front of 80,000 people in Winnipeg in 2000. Gord Downie was a passionate advocate for Lake Ontario Waterkeeper. And of course, in the last years of his life he and his brothers launched the Downie-Wenjack Fund, as well as a brain cancer fund at Sunnybrook. Giving back has always been important to me, and it's always been important to the Hip. 
What is it about EcoJustice you like?
Most of my personal giving is on the local level. This book is about Canadian icons, a Canadian story that will appeal to people in every part of Canada, and so I wanted some proceeds to go to a national organization. The launch show at the Horseshoe Tavern in Toronto April 5 benefitted Lake Ontario Waterkeeper, who do great work close to home. EcoJustice do similar work from coast to coast to coast: the effect of Sarnia's Chemical Valley on local Indigenous communities, the Northern Gateway pipeline, limiting Nestlé's ability to extract groundwater, Arctic drilling in Lancaster Sound, reducing Manitobans' exposure to pesticides, contaminated groundwater in Nova Scotia, and of course access to clean water in Indigenous communities everywhere, including Grassy Narrows. 
And why Frontier College?
First off, this is a biography of a writer and his band. Gord Downie's lyrics are unique and so captivating in part because he was so widely read and curious. If we as a culture wish to produce more people like him, promoting literacy initiatives is one way to do that. 
Frontier College, another national organization, touches on many issues I care about, all connected to their work with literacy. I strongly believe immigrants and refugees enhance Canadian life, but they need tools to succeed here, starting with literacy.
Frontier College does work with migrant agricultural workers, one of the most marginalized sectors of the Canadian economy, one we all take for granted. Frontier College works with prisoners, many of whom are in a cycle of poverty brought on in part by low literacy rates. Frontier College works collaboratively with Indigenous communities to develop culturally appropriate curriculum in remote areas; part of the ongoing tragic legacy of the Chanie Wenjack story — as evidenced in Tanya Talaga's excellent book Seven Fallen Feathers — is that remote communities suffer when their students have to travel hundreds of kilometres to attend high schools in urban areas; Frontier College trains local "literacy catalysts" and runs summer literacy camps in those remote communities. 
Funding literacy initiatives is a tide than can lift many boats. Educated people have a better chance of fighting for their rights and navigating the Canadian system. Marginalized people are less likely to fall through societal cracks if they are empowered with literacy. Words have power. So let's put some money where our mouths are.
Air Jordan