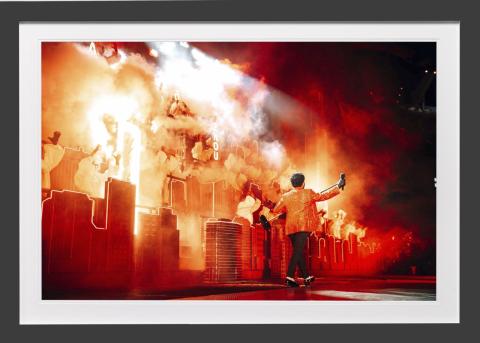 Hyghly Allenye, The Weeknd's official tour photographer and co-founder of the XO label, has made some of his never-before-seen Super Bowl LV photos of the international music star available in limited edition prints on Zilo Art.  Five percent of every sale will go to the UN World Food Programme, for which The Weeknd became a goodwill ambassador in October.
The Canadian photographer, videographer and creative director took the photos last year when The Weeknd was the Super Bowl halftime entertainment. The singer,  who was born Abel Tesfeye, will also be compensated.
"My Canon Camera has taken me around the world. I've seen firsthand how many children are in desperate need of education, food support, and shelter," Allenye told Samaritan in an email about selecting the charity. "We are hoping to raise just over $37,000 [USD] for the UN World Food Programme, a cause that is close to my heart.
"I believe that children around the world deserve to eat every day. Over the pandemic, as many as 1.6 billion children and young people are currently out of school due to lockdown closures," he continues. "Nearly 370 million children are missing out on nutritious school meals - you can only imagine when children don't get the nutrition they need their immunity goes down. We are hoping to provide a reasonable donation to help the WPC continue with their important work."
Alleyne has been exploring his artistic side since the age of 10.  His dad David Cropper directed "Jeevin' Life" for Kardinall Offishall, feat. Jully Black, managed a Caribbean network called Tempo, was an executive producer for MTV in New York, and creative director on the talk show series 360 Feva.  Alleyne dropped out of high school and moved into a one-bedroom apartment in Toronto's Parkdale neighbourhood with a yet-to-be-known Tesfaye and La Mar Taylor. Together, they would create the XO brand.
Last year, Alleyne was the only photographer allowed behind-the-scenes access to The Weeknd's Super Bowl halftime show.
The limited-edition ready-to-hang prints come in six different sizes and prices range from $175 for print-only to $1895 for collector. All prices in USD. Shipping is free in the U.S. and Canada and for a fee internationally. Customers can choose between two wood frame colours and double mat-boarding. All framed art comes with a Zilo Certificate of Authenticity.
Sizes are: Print only (16x20), edition of 500), small (edition of 250), medium (20x20), large (24x30), giant (36x36), statement, (31x44) and collector (36 x 52, edition of 50).