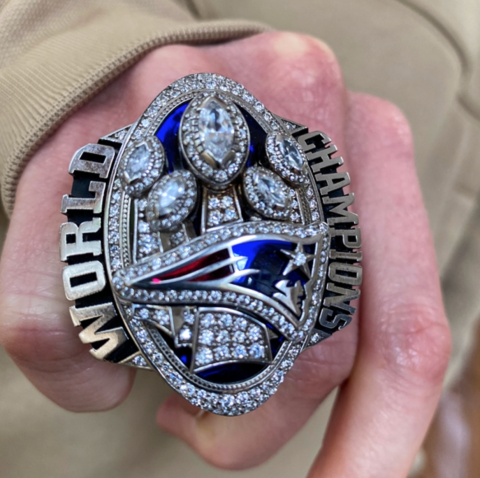 New England Patriots owner Robert Kraft donated a Super Bowl ring to be auctioned off to support food charities Feeding America, Meals On Wheels, World Central Kitchen and No Kid Hungry during the coronavirus pandemic.
The winning bid for the Super Bowl LI championship ring was $1.025 million, came via the All in Challenge virtual auction site, which raises money to eliminate food insecurity amid the COVID-19 crisis.
"Each of these nonprofit organizations has one goal in mind – to eliminate food insecurity during these challenging times. More than ever before, families will struggle to provide food as tens of millions are out of work, kids are out of school, many are at risk of losing their income, and our most vulnerable elderly population is self-isolating," the All In Challenge website states.
Since launching on April 14, the virtual fundraising site claims to have raised just over $51 million for its four designated charities.
Feeding America is a major U.S. hunger-relief charity, providing food to low-income Americans and each year providing over 4.3 billion meals via member food banks.
Meals on Wheels, as it provides meals to vulnerable elderly people, has seen a jump in demand for its support during the coronavirus pandemic.
"Local Meals on Wheels programs are on the front lines every day, focused on doing all they can to keep older Americans safe and nourished in communities across the country. In fact, a new survey conducted by Meals on Wheels America finds that nearly all local Meals on Wheels programs are experiencing increased demand, with four in five programs reporting that new meal requests have doubled since March 1, when concerns over COVID-19 and social distancing measures began taking hold," the charity says on its website.
Another designated food relief charity, World Central Kitchen, is led by celebrity chef José Andrés and normally brings kitchens to feed people hot meals in disaster zones, including hurricanes, earthquakes flooding.
But World Central Kitchen has also turned to COVID-19 relief efforts by bringing meals to cruise-ship passengers under quarantine, or to those in need in New York, Los Angeles, New Orleans and other U.S. cities impacted by the coronavirus spread.
"It's been 70 days since WCK's COVID-19 response began across America and expanded into Spain. Since then, we have served over 10 million fresh meals to students, families in need, seniors and frontline healthcare heroes. It's a sobering reminder of the impact the coronavirus is having on our communities," World Central Kitchen says on its website.
The fourth food charity to benefit from the Super Bowl ring auction is No Kid Hungry, a national campaign run by Share Our Strength, a nonprofit looking to end childhood hunger and poverty in the U.S. and around the world.
The nonprofit offers school breakfasts, after-school and summer meals and food skills education for young people.
"With family paychecks cut or gone and many people struggling, we're using donations large and small to help feed kids millions of meals every day," No Kid Hungry says on its website. 
Air Max