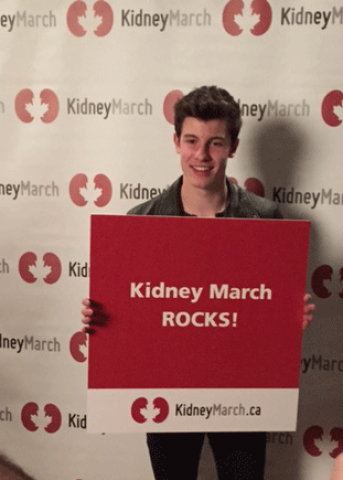 Nothing gets the word out as far and wide as social media. Attach a celebrity to your message —making their diverse followers a de facto workforce via Facebook, Instagram and Twitter shares — and there's no telling just how many people across the globe might receive your dispatch.
The Kidney Foundation of Canada has been highly adept at executing that kind of social media strategy. Proof of that was on display at the recent Juno Awards in Calgary. Canadian musicians heading into a Juno after-party at Charbar hosted by Universal Music Canada were asked to pose with PSA-style signs provided by the Foundation. 
Among the sign-holders were Shawn Mendes, Jann Arden, Tom Cochrane, Lights, Alan Doyle, The Tenors, Kardinal Offishall, Matthew Good, Shawn Hook, Dean Brody, Lights, Andy Kim, Alex Cuba, Tim Neufeld, and Whitehorse's Luke Doucet and Melissa McClelland.  Those images were then posted online for all the world to see… and share.
Doyle, solo singer/songwriter and "retired" Great Big Sea frontman, hoisted a sign reading "Recycle Yourself. Organ donation saves lives," while electropop singer/songwriter Lights and 2016 Juno Awards co-host Jann Arden held aloft a billboard reading "Kidney March Rocks," referring to the Kidney Foundation's flagship annual fundraising event.
"The Kidney Foundation's main objective is to raise awareness about the Kidney March and also about organ donation," Cathy Cutz, partner at Toronto-based 145 Live Solutions, which serves as a matchmaker of sorts between charities and the music industry, tells Samaritanmag.
"Accumulating content such as artist photos in front of the Kidney Foundation booth means they can use those at any point in driving awareness for their campaign. We took photos of at least 20 artists at this year's Junos, and our hope is that they're tagged in these social media posts and the artists will re-tweet them."
The idea works. At time of writing, the playful image of Doyle posted to Facebook had just shy of 900 likes and in excess of 1,000 shares — the Kidney Foundation's biggest post of the year so far, says Cutz.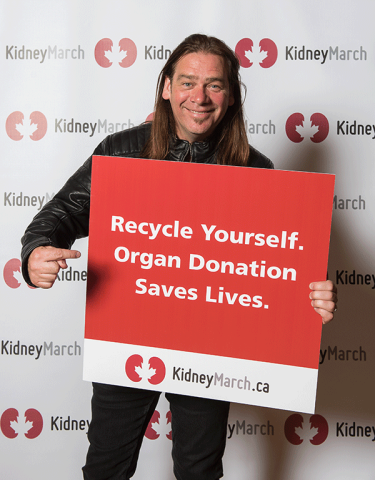 Thanks to its partnership with 145 Live Solutions, Kidney Foundation photo booths have been a staple of record company Juno after-parties for almost a decade, with EMI and Warner Music Canada also involved in years' past.
Of course, kidney disease — a nefarious, chronic, equal opportunity illness that can be fatal — is close to the hearts of many Canadians. According to the Kidney Foundation, it affects one in 10 Canadians or some 3.5 million people. In addition to such horrors as daily dialysis, there are awful physical, emotional and financial side effects on the sufferer and enormous stress on family and friends.
Of the 4,500 Canadians on the wait list for an organ transplant, 77 percent are waiting for a kidney.
Still, from darkness springs light — in this case, the Kidney Foundation's annual Kidney March.  Now in its 7th year, the grassroots movement asks participants to spend three days walking 100 kilometres in the picturesque foothills of Alberta's K-country and Calgary to raise money for kidney disease prevention, research, patient support programs as well as organ donation initiatives.
Along the way, participants' "every need will be anticipated, from the transport of your luggage to meals, showers, snacks, and a tent" with each of the Marchers raising a minimum of $2,200, often much more, while bonding with others and racking up serious bragging rights. Roughly 200 people participate annually as either Marchers or crew.
Since the first March in 2010, $4 million has been raised. Its emotional impact is harder to gauge but no less impressive. According to Cutz, the March is the only one of its kind in Canada and the biggest in North America. "People fly in from across Canada and the U.S. as well as New Zealand to attend. Some of the participants are actually on dialysis while they're walking."
As with year's past, the 2016 edition of the Kidney March  — happening Sept. 9 to 11 — will see Marchers drawn from the all walks, from health-care providers to family members of those suffering from kidney disease.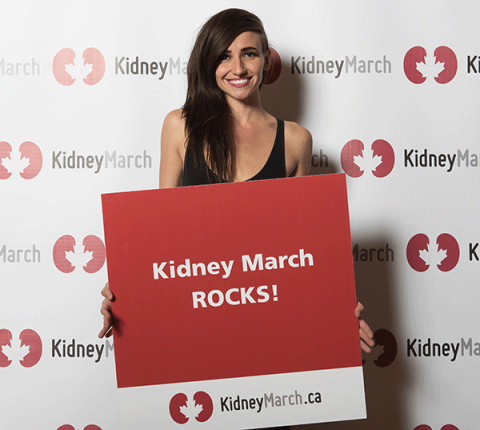 "Finding artists that have stories and a connection to a cause really helps to cut through the noise and elevate a cause's goals of raising awareness and fundraising," Cutz says, offering a sterling example taken from this year's event in Calgary.
"Lights pulled me aside before she took her photo and told me this heart-warming story of her connection with kidney disease. One of her best friend's mother had kidney failure, with no available kidneys for transplant. So Lights reached out to her fans through social media for the cause, and from her fans, an anonymous donor offered their kidney for her friend's mom.
"So Lights' friend's mom is living today because of this anonymous donor."
Adds Cutz: "We also have a connection with Jann Arden — a friend of hers had a kidney transplant — and with Paul Brandt who used to be a nurse. The Kidney Foundation is releasing a PSA in the third week of April promoting organ donation.
"Don Cherry's daughter Cindy works for the Kidney Foundation and she donated a kidney to her brother, Tim. Because of that connection, we are also looking to expand beyond just music to include other partnerships.
"One of the comments that appear with the Alan Doyle post was from someone in line for a kidney donation and [they wrote that] the post encouraged them to keep going. So all of this is very inspirational."
The musicians also signed an Epiphone guitar, which will be auctioned off at a later date.
adidas Yeezy 350