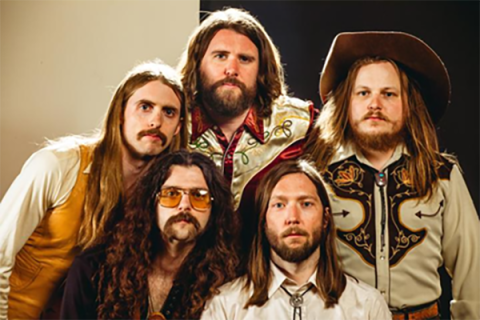 Saskatoon rockers The Sheepdogs have pledged to donate a minimum of $150,000 over the next decade to help support various local charities, with a specific focus on those benefitting Indigenous peoples. A minimum of $15,000 will be given out each year.
The band —  frontman Ewan Currie, guitarist Shamus Currie, bassist Ryan Gullen, drummer Sam Corbett and utility player Jim Bowskill — will raise the funds from a portion of ticket, physical album or t-shirt sales, plus non-ticketed show income, starting this Sunday (Aug. 7) with their set at the Saskatoon Jazz Festival.
"We have been fortunate enough to enjoy success worldwide, and the best way to share that success is to re-invest it back into the community we came from, and those who have supported us along the way and that we owe so much to," bassist Ryan Gullen said in a press statement.
The announcement of the generous commitment also coincides with the 10-year anniversary of the band winning a Rolling Stone competition to appear on coveted cover.  
"We've come so far over the past 10 years and have always had the people of Saskatoon behind us," Corbett added in his own statement. "Reflecting on this [Rolling Stone] anniversary, we knew we wanted to support the people in our community just as they supported us." 
The magazine's Choose the Cover contest resulted in the Canadian unsigned act beating out 15 others and gracing the cover on August 18, 2011. The band had released three a few indie recordings, 2007's Trying To Grow, 2008's The Sheepdogs' Big Stand, and 2010's Learn & Burn, which went platinum in Canada after the cover.
Following the international press, the Sheepdogs signed with Atlantic at the time, and released their self-titled album, which was certified platinum in Canada and won three Juno Awards, i rock album, best new group and single of the year.
The next two albums, 2015's Future Nostalgia and 2018's Changing Colours were released on Dine Alone/Warner Music Canada. Their latest release is the EP, No Simple Thing, featuring the top 5 singles "I Don't Know" and "Feeling Good."
To date, the Sheepdogs have had 10 songs in the top 20, seven of those in the top 5, and three singles reach No. 1 on  Canadian rock radio.  Their last four album have all been nominated for rock album of the year at the Junos.
In addition to donating to local charities, the band also plan to use some of the funds "on a micro level to help specific individuals who do not have the financial means to gain access to education and music lessons with a focus on supporting Saskatoon's BIPOC community," it states in the press release.
Adds Gullen, "We want to be able to empower other individuals to have access to music like we did growing up. Our hope is to be able to shed some light on some of the great organizations that are doing really wonderful things within the community."