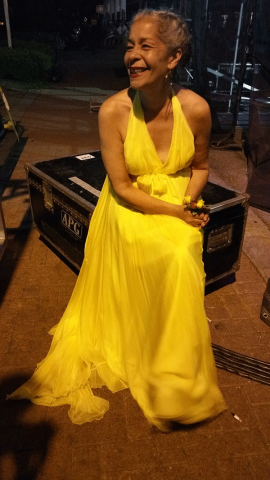 Jazz singer and long-time philanthropist Molly Johnson has put together the inaugural Kensington Market Jazz Festival, a nine-venue, 80-show, three-day lineup (Sept. 16-18) in the historic Toronto district that includes both her passions: music and charity.
The festival, which she created with Ori Dagan and Geneviève Marentette, not only includes performances by Blue Rodeo's Jim Cuddy, opera singer Measha Brueggergosman, and funky-jazz fusionists The Shuffle Demons, but there is a charity element benefitting Boys and Girls Clubs of Canada, Archie Alleyne Scholarship Fund, Stephen Lewis Grandmothers Campaign and St. Stephen's Youth Arcade.
"I come from a history of philanthropic initiatives  — folks might remember Kumbaya [1993-96], which was a nationally televised music festival on MuchMusic [and] raised over $1 million for people living with AIDS at home and abroad. Philanthropy is in my DNA as my parents were both active activists," Johnson tells Samaritanmag.
The Kensington Market Jazz Festival t-shirt will feature the late great Archie Alleyne and all proceeds go towards his student scholarship fund. There will also be a youth component with the St. Stephens Community House Youth Arcade Studio as the hub for performers under age 18.
Johnson has selected the charities "very carefully," she says.
"I've been working with the Boys and Girls Clubs of Canada with my latest Billie Holiday record. I love the way they work with kids after school; that's a difficult time for working parents and they do a great job.
"Stephen Lewis, I've been a fan of his forever. He's an amazing Canadian and I admire the work he does in AIDS activism."Archie Alleyne's music scholarship has already produced some great musicians, some of which are already programmed into our festival. Quincy Bullen is a great example.
"Brand new to the market is the St. Stephen's Youth Arcade Studio. That's a place where young inner-city kids go to learn to paint. We are programming a youth jazz stage at that venue. It's pay-what-you-can. All money goes to that program. Following the festival we hope to continue with a kids music school as Yamaha has committed to donating a piano to that space," she adds.
The festival takes place at Supermarket, The Boat, The Round, Handlebar, Trinity Common and Poetry Jazz Café, plus Youth Arcade Studio (for players under the age of 18) and free shows in Tom Mihalik's men's clothing store Tom's Place. It is cash-only at all the venues and merchandise tables. Most cover charges are $10-$25. The Hotbox Cafe is pay-what-you-can.
At the Handlebar, where the pay-what-you-can fundraisers will be held for the Boys and Girls Clubs of Canada, donations via cheque will also be accepted.
The lineup over the three days also includes also Order of Canada members Don Thompson, Joe Sealy, Dave Young and Jane Bunnett, and critic's darlings Carol Welsman, Sophie Milman, Brandi Disterheft and Alex Pangman.
"Though it's a jazz festival, we wanted to include artists you may not think of as jazz musicians," Johnson said in the press statement. "So we've got Measha Brueggergosman and Julian Fuego and Jim Cuddy as part of our singers showcase at Handlebar benefitting the Boys and Girls Clubs of Canada, and we also booked bands from other genres like Soul Stew and The Sinners Choir."
Wholesale Cheap Nike, Jordans, Adidas, Air Max Shoes China Sale Online