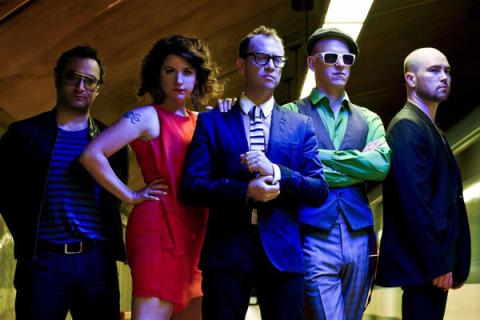 Montreal new new romantics Stars will be using their upcoming tour to support the Native Women's Shelter of Montreal (NWSM.).
The band recently announced on Twitter that $1 from each ticket sold for their upcoming eight-show limited tour will go towards NWSM.
"$1 from every ticket goes to providing indigenous women & children a safe, supportive environment, visit @plus1org & http://www.nwsm.info," said the band in a tweet posted on Aug. 21.
The Native Women's Shelter of Montreal offers support services for First Nations, Inuit and Metis women and children in need. The shelter incorporates traditional healing techniques with contemporary methods to assist their clients. For example, NWSM's Holistic Health Project does things like provides healthy lifestyle workshops, job training and life skill development for people who've been impacted by things like homelessness, sex trade, HIV infection, substance abuse or family violence.
This is far from the only time Stars have used their music for good. The band, which features Broken Social Scene semi-regulars Amy Millan, Torquil Campbell and Evan Cranley, have teamed up with the charity facilitators Plus 1 in the past to help Partners In Health, which develops health care for poor communities around the world. Millan has also spent time supporting seed saving initiatives and Campbell has used his solo shows to support various causes.
If Plus 1 sounds familiar, that's because the organization was founded by former touring Arcade Fire member Marika Anthony-Shaw. Based on a simple premise — touring bands collect $1 from every ticket they sell and donate it to charity — a number of acts have adopted the Plus 1 fundraising model, including Arcade Fire, The National, Arkells, St. Vincent, Vampire Weekend and Half Moon Run.
$1 from every ticket goes to providing indigenous women & children a safe, supportive environment, visit @plus1org & https://t.co/UhkVaFHQO0 pic.twitter.com/vJoz5McuZo

— Stars (@youarestars) August 21, 2017
Stars tour dates:
Nov. 16 Brooklyn, NY @ Rough Trade
Nov. 17 Brooklyn, NY @ Rough Trade
Nov. 18 Brooklyn, NY @ Rough Trade
Nov. 22 Toronto, ON @ The Great Hall
Nov. 23 Toronto, ON @ The Great Hall
Nov. 28 Los Angeles, CA @ Masonic Lodge
Nov. 29 Los Angeles, CA @ Masonic Lodge
Nov. 30 Los Angeles, CA @ Masonic Lodge
冬メンズコーデの参考にしたい「ジーンズ」のスナップを厳選 , メンズファッションメディア