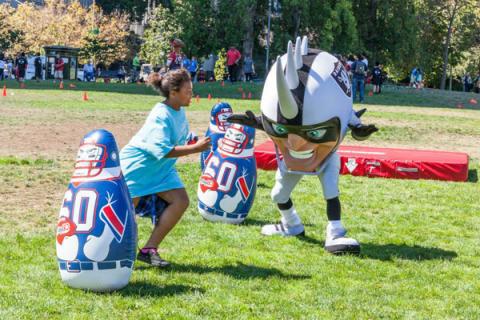 When the National Football League's Super Bowl 50 championship game takes place this Sunday, Feb. 7,  in San Francisco, California, between the Denver Broncos and Carolina Panthers, the mammoth sport and cultural event will be used to launch multi-million dollar advertising campaigns, spike television ratings, dominate the next day's news cycle and will lionize a whole new group of professional athletes.
It will also leave a lasting legacy of help thanks to the Super Bowl-related 50 Fund, which was created by Super Bowl organizers to facilitate community and youth development around the big game.
With a goal "to help close the opportunity gap that exists for Bay Area children, youth and young adults living in low-income communities," according to the 50 Fund website, it offered grant opportunities to qualifying recipients in the lead up to the Super Bowl. The organization did this through four distinct programs — Gamechanger, Playmaker, The Re(a)d Zone and Play 60, Play On — which ended up distributing $7,310,000 US ($10,143,356.00 Canadian) to 140 different organizations. The 50 Fund says these grants have helped close the opportunity gap for 536,984 low-income children, youth and young adults in the greater San Francisco Bay Area.
"Super Bowl 50 has set a goal to be the most philanthropic ever," said Kamba Tshionyi, Chair of 50 Fund, in a press release related to the Play 60 Play On campaign. "We continue to not only make thoughtful grants that help close the opportunity gap for low-income children and youth in our region, but that we also inspire others by lifting up the stories of impact that result from these investments."
For Play 60, Play On the focus is on finding and developing new, often small scale places for children to play that don't have the same size, imprint or cost of things like parks and playgrounds. Part of the goal is to create mini play destinations or "small, modest but right-around-the-corner options with interesting play structures" that can be leveraged from undiscovered assets around the city.
The league's official charitable arm the NFL Foundation has a mission "to support the health, safety and wellness of athletes, youth football and the communities which support our game," so its representatives were clearly happy to help out.
"The NFL Foundation is proud to team with the 50 Fund to establish the PLAY 60, Play On initiative," said NFL Foundation Director, Alexia Gallagher. "Leaving a positive and lasting legacy for youth and families in the San Francisco Bay Area long after the final whistle on Super Bowl 50 Sunday is an NFL priority."
One of the other programs, Game Changer, handed off one-time grants between $250,000 to $500,000 to organizations working on community investment or sustainable environment initiatives. Some of these recipients included First Place For Youth, a program that helps young adults transition out of foster care, and La Clinica de la Raza, which provides health care services in trauma-sensitive school communities.
The Playmaker program, meanwhile, set out to give 50 different grants in 50 weeks "to community-based organizations with a passionate advocate and a specific, compelling need for fund to provide an immediate community impact." Lisa Manthe's Child Parent Institute's art therapy facility was one recipient. Another, Patricia Manubay from the Jefferson Awards Foundation, creates "Dream Boxes" filled with school supplies as well supportive letters and affirmations to help encourage students.
The Re(a)d Zone, complete with its cheeky play on words reference to football's "red zone," activates book donors and "literary champions" who work as volunteer tutors and early literacy advocates. Justin Tuck, an all-pro defensive end with the Oakland Raiders, and his wife Lauran Williamson, who also operate the Tuck's R.U.S.H. for Literacy charity were also involved in Re(a)d Zone push.
Super Bowl 50 takes place Sunday, Feb. 7, 2015, at Levi's Stadium and will feature the Denver Broncos against the Carolina Panthers. In Canada the game will air on CTV stations in English and RDS in French.
Watch Justin Tuck (Oakland Raiders) and Torrey Smith (San Francisco 49ers) talk about The Re(a)d Zone:
Sean Cliver Nike SB Dunk Low Holiday Special DC9936-100 Release Date