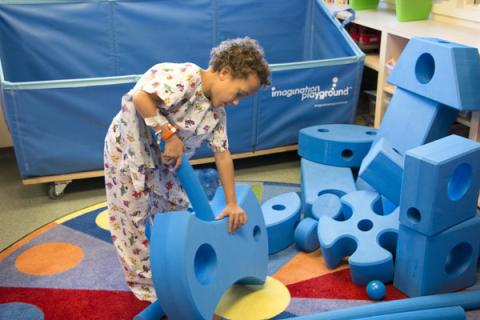 Toy company Mattel's charitable foundation is doing its part to help hospitalized children play around thanks to $90,000 in grants it's giving to nine separate children's hospitals.
The U.S. hospitals, which are part of the 220 member Children's Hospital Association (CHA), will be using the grants from the Mattel Children's Foundation to build or improve play facilities for its patients. For example, UCSF Benioff Children's Hospital San Francisco in San Francisco, CA will get new playmats to do exercises on, the Texas Scottish Rite Hospital for Children in Dallas, TX will receive interactive play consoles in its clinic waiting areas to reduce patient stress and anxiety, and the Miller Children's & Women's Hospital Long Beach in Long Beach, CA will be getting a new teen lounge for patients who have long hospital stays.
The goal with these enhancements is to support the emotional, physical and social well-being of hospitalized children.
"The purpose of these play grants are to make it possible for hospitals across the country to come up with new and innovative ways to use play as a healing tool for children recovering from surgery and battling various illnesses," said Robert Goodwin, executive director of Mattel Children's Foundation in a press release. "We are again excited to collaborate with the Children's Hospital Association to help make a meaningful difference in the lives of children."
CHA officials say stimulating play is helpful in letting hospitalized children be normal.
"With support from the Mattel Children's Foundation, children's hospitals are creating healing environments where play is an important component," said Amy Wimpey Knight, chief operating officer of CHA. "By engaging in play whether outside on a playground or inside via technology, hospitalized children can just be kids."
Mattel, which is responsible for such popular toy brands as Barbie, Hot Wheels, WWE action figures, has been a partner with the CHA for 11 years, having given out 565,000 toys and donating $377,000 in play grants during that time through the Mattel Children's Foundation.
The Mattel Children's Foundation was established in 1978 as a nonprofit public benefit corporation separate from the proper toy manufacturer. Its one stated goal is "improving the lives of children in need." Some of its programs include the Mattel Family Learning Program which provides computer labs for underserved children, Helping Kids Grow, a mobile health care service to provide preventive healthcare to low-income children, as well as educational grants and support initiatives.
The hospitals receiving play grants include:
Arkansas Children's Hospital, Little Rock, AR
Miller Children's & Women's Hospital Long Beach, Long Beach, CA
UCSF Benioff Children's Hospital San Francisco, San Francisco, CA
 Children's Hospital, New Orleans, LA
 Johns Hopkins Children's Center, Baltimore, MD
 Joseph M. Sanzari Children's Hospital at Hackensack Univ. Medical Center, Hackensack, NJ
 The Children's Hospital at Montefiore, Bronx, NY
 Texas Scottish Rite Hospital for Children, Dallas, TX
 Children's Hospital of Wisconsin, Milwaukee, WI
Supreme