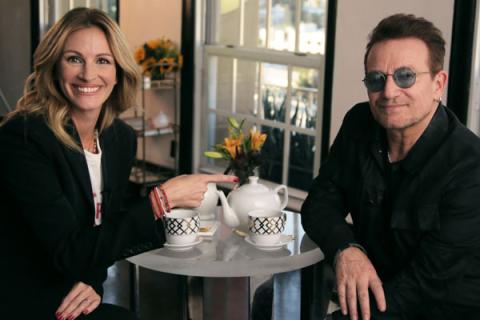 You could win yourself a private U2 concert experience or an afternoon drinking tea with U2 lead singer Bono and actress Julia Roberts by supporting the (RED) charity to combat HIV/AIDS.
Created in 2006 by Bono and Bobby Shriver, (RED)'s goal is to end AIDS in Africa, where it's estimated that 37 million people live with HIV/AIDS. The charity focuses on countries with high prevalence of mother-to-child transmission of HIV.
For these two fundraising opportunities (RED) teamed up with Omaze, the innovative online auction company that works with celebrities and charities.
Designed like a raffle where a $10 donation to (RED) gets you 100 chances to win these rewards, as you donate more to (RED), you receive more chances to win these grand prizes as well as receive other secondary rewards. A $100 donation gets someone a 1,000 chances to win the grand prize as well as a (RED) t-shirt. Donating $3,500 to the tea drinking session will earn a person 35,000 grand prize entries as well as a signed dvd of Roberts' movie Runaway Bride. Meanwhile, a $15,000 donation to the U2 concert campaign will score a person 150,000 entries to see the band live as well as an autographed vinyl copy of U2's Songs Of Innocence album.
One of the things money generated from these campaigns will go towards will be ARV pills, which prevent HIV positive mothers from passing the virus on to their unborn babies.
The description for the private U2 show calls it possibly the smallest concert they'll play this year.
"Their tours have shattered records across the globe, but for one lucky fan, the biggest U2 show of the year just might be the smallest. That's right—you and a friend will get flown out for a private U2, dress rehearsal experience. It's a front row, backstage, VIP experience all rolled into one. You will hear your favorite U2 songs during an intimate performance like no other. Flights and hotel are on us," says a description of the reward.
For the tea experience with Bono and Roberts the high profile pair are offering to provide life advice at the meet-up.
"Bono and Julia Roberts are getting afternoon tea, and you and a friend are joining them at the table, where you'll discuss life, love and the meaning of the universe," says the reward's description. "Need advice? Bring your problems and Bono and Julia will do their best to help... even if that means treating you to something stronger than tea. It'll be like that dream you had where you and your friend were best friends with Bono and Julia Roberts, only it'll be even better because this time it's real AND it benefits (RED). So pull up a chair, unfold your napkin, and settle in for the most interesting conversation of your life. Flights and hotel are on us."
Deadline to donate and be entered to win either of these rewards is Jan. 18, 2017 at 11:59pm PST. The winner will be chosen on or around Jan. 27, 2017.
These aren't the only (RED) fundraising opportunities right now. Some other ongoing fundraising grand prizes include the chance to jet ski and Snapchat with music producer DJ Khaled, the chance to get life advice from Sir Richard Branson, and the opportunity to join Channing Tatum at the Magic Mike Live premiere and after-party.
Watch this video about the AIDS battle in Africa
nike lunar janoski black and gold swoosh blue