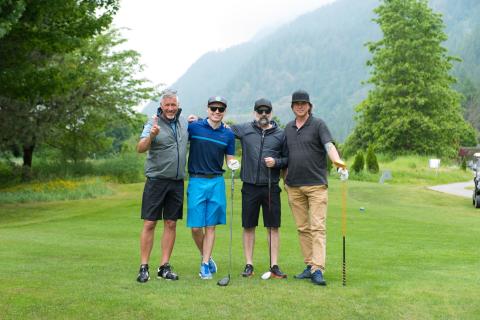 The annual Unison Charity Golf Classic is returning this year, abiding by covid safety measures and limited in capacity, and is still in need of sponsors. Funds raise support Unison, the non-profit that provides counselling and emergency relief services to the Canadian music community.
The Unison Charity Golf Classic will take place in Montreal at Beaconsfield Golf Club on Sept. 20, Toronto at Lionhead Golf Club on Sept. 28, and Vancouver at Tsawwassen Springs on Oct. 7. Registration for foursomes ($1000 for four players) is now open with limited capacity and even non-golfers are welcome to give it a go.
"Somebody doesn't have to pay for a sponsorship to get a spot to play, but because we were limited we were trying to sell the sponsorship part first and get a first-come first-serve option, guaranteed placement to play," Amanda Power, Unison's executive director, tells Samaritan.
Sponsorship opportunities — lunch; hole; golf ball and tees; golf carts and shuttle carts, ranging from $2000 to $3000 — are still available in all three cities, with some packages already sold-out (they all include one foursomes).
As an example, a hole sponsorship ($2,000 per hole) includes one foursome and lunch; $1,000 tax deduction, hole sponsorship recognition with single banner; recognition on event website, logo recognition on welcome banner; personal mention of support during welcome speech; and on-site social media exposure (minimum one Instagram story and one tweet) on Unison's socials. 
Unison is also open to custom and national sponsorship proposals.
"The majority of the money made at the golf tournament is all through sponsorship," says Power. "We really don't make a lot of money off of the foursome because there's a hard cost to that — you have to book the foursome, the golf carts, the lunch, the dinner — and because this is stripped down, all of those sponsorship opportunities have been restricted. We don't have as much to sell. So the golf tournaments will not make even half of what they have in previous years."
This year, because of covid safety protocols, it's a little different.
"It's not the same format that we used to have before where it was a shotgun start and everybody teed off at the same time. You would be assigned a hole to start on, everybody would start and finish at exactly the same time. And then we would go into a banquet dinner. We're not doing that this year," she explains.
"Players will tee off every 15 minutes from the first hole, play 18 holes of golf, and have lunch while supporting the charity. You play through the course with your foursome, but in that time you're also running into others. You're going to see each other at the clubhouse to have lunch. So there is a little bit of a social interaction that still happens."
The tournaments are an opportunity to not only raise funds for Unison, but a chance for members of the very social and tight-knit Canadian music industry to see each other again. Since the pandemic started in March 2020, awards shows, showcases, and concerts came to a screeching halt. Concerts are starting up again, with restrictions, but many big associations are delaying their awards show until 2022.
"As a fundraiser, most definitely we need the funds, but it's also an opportunity just to get people to go back out and start socializing with each other and remembering that this amazing tournament does happen every year," Power says. "Even if it's a scaled down version this year, we've got something to look forward to."