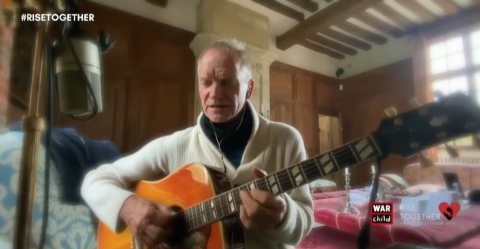 War Child far exceeded their $100,000 goal during its recent 90-minute online telethon, Rise Together, bringing in a total of $211,600, of which $18,545 was from an auction that included everything from personalized songs written by Randy Bachman and Corey Hart to a virtual meet-and-greet with Blue Rodeo's Jim Cuddy to The Tragically Hip holiday merchandise crate.
Sting, Lyle Lovett, Sarah McLachlan, Chantal Kreviazuk and Notifi were among the performers for the live-stream event on Dec. 7.  "Hi, I'm Sting and I'm here to support War Child and all the incredibly important work they do," said the long-time activist and former Police frontman before he played "Fragile" at the end of the show.
Rise Together — a War Child Canada and War Child USA initiative — was free to watch, but viewers were encouraged by the excitable and persistent Layne, The Auctionista to make direct donations.
Big or small, Layne gave shout outs to contributors, and was particularly ecstatic by the gives in the thousands. "We have a lofty fundraising goal tonight, and that's why I'm here," they said off the top, giving out the donation and auction information. "We need everyone on board to help us raise $100,000 in charitable donations to help get the fundraising started."
Within no time, the "giving thermometer," which showed real-time results, jumped to $8000 then in the blink of an eye to "$35,000, and just kept climbing during each segment.
Hosted by ET Canada's Sangita Patel, the evening also featured appearances by War Child ambassadors Amanda Seyfried and Thomas Sadoski as well as  David Harbour, Troian Bellisario, Sheaun McKinney, Beth Behrs, Patrick J Adams, Sarah Rafferty, Ashley Park, Rachael MacFarlane, plus a cooking segment with celebrity chef Mark McEwan.
According to War Child Canada, the show garnered over three billion media impressions, has been watched by 3,254 people to date, and had over 800 people register on the website.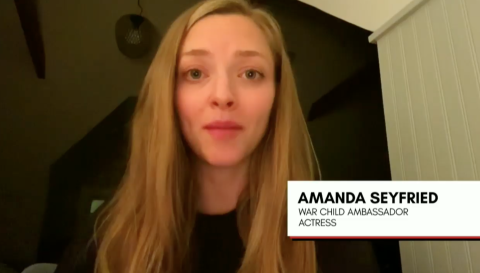 Actress Seyfried (Mamma Mia! Here We Go Again, Ted 2) spoke about the importance of the charity, capped by asking people to donate.
"As I look back on this year of uncertainty, unrest, and hardship for so many people, I know that I'm incredibly grateful to be able to provide for my family and to be able to live in a country that is safe and secure and has access to healthcare, clean water and opportunities for my children to flourish," she said.
"I'm so grateful for the people on the frontlines, who continue to fight this pandemic and racial injustice and these inequities that leave so many families struggling during this crazy time. And these are especially challenging times for the children that War Child supports, children whose lives are already precarious because of conflict. For these children, COVID-19 is a disaster built on catastrophe.  Imagine trying to protect your family in a crowded refugee camp or living in a country whose healthcare systems have been decimated by war. Families, communities everywhere need to have the best tools to fight this pandemic, and children everywhere deserve to feel safe and secure and to be able to go to school and to be able to dream of bright futures.
"So tonight I am urging you to please give generously to War Child so [it] can continue to provide vital life-saving programs to the most vulnerable let's rise together and leave no child behind."
Founded in the United Kingdom in 1993, War Child is currently active in 15 countries across Africa, Asia and the Middle East, and Latin America.  War Child Canada, which was founded in 1999, provided assistance to over 600,000 children and their families in 2019, but the COVID-19 pandemic has made the already precarious situation for children in war-affected regions even more difficult.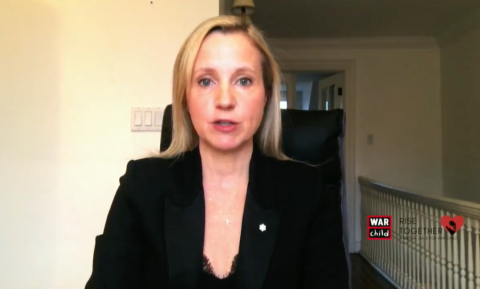 Dr. Samantha Nutt, War Child Canada and USA founder and president, and a recipient of the Order of Canada, also spoke during the webcast, thanking presenting sponsor the Slaight Family Foundation.
"Now this isn't the evening we were expecting to mark our 20th year of operations, but then again, this has been a year unlike any other," she said. "It has been long and it's been hard. And I know it's been hard for many of you as well. So I want to thank you. Thank you for being here tonight and thank you for continuing to make War Child's work possible throughout the world.
"Over the past year, we have continued to do what we do best, which is to say, we have been present in the lives of children who need us the most, through locally-driven programs that focus on education, access to justice and economic self-reliance. Ninety-nine percent of our staff are local. So when the COVID 19 pandemic struck, many international aid organizations were forced to withdraw their staff and scale back their operations, as their tremendous local teams could step in and help fill some of those gaps.
"Tonight, you're going to learn a bit more about some of those efforts, but in response to the pandemic, we have been implementing public health education and awareness programs, distributing hygiene kits to women who need them and even running distance-based learning programs for kids to ensure that children who were already wrestling with the fallout of war do not fall further and further behind in their school as a result of the COVID-19 lockdown.
"This year has been tough for charities and ours is no exception. Increasingly, we are being asked to do more, but we have fewer resources available to be able to get that work done. In the months and even years ahead, we expect it will become even more challenging as international governments reduce their aid budgets and try to wrestle with the economic fallout of the COVID-19 pandemic. We are worried that the children that we serve will continue to fall further behind and be overlooked as these growing domestic needs take over.
"We ask you to help make sure that that doesn't happen, to invest in us and invest in our work so that we can continue to be present in the lives of kids who need us the most. We couldn't do this work without you."