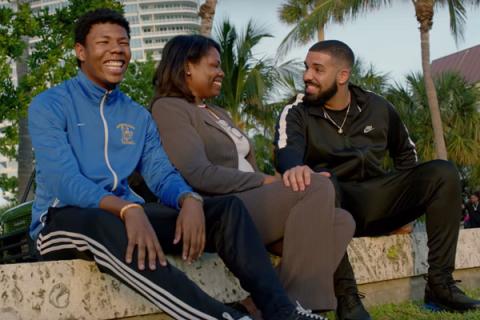 Drake is using the release of his newest music video "God's Plan" to challenge people to "be nice to each other."
Leading up to the release of "God's Plan" on Feb. 16, the pop star called the video the most important thing he'd ever done in his career. In the video Drake can be seen walking through the streets of Miami engaging in acts of charity  and having a spirited party with the students of Miami High School.
In one scene he enters a grocery store telling customers, "anything you want in the store is free." From there he can be seen giving out tuition money for students, handing stacks of cash to families in need, donating funds to the Miami Fire Department, treating residents of a women's shelter to a shopping spree, before ending the video talking to a mother and son pair, saying "We're nothing without our mothers... you gotta make sure you take care of your mom, too."
At the start of the video a line says, "The budget for this video was $996,631.90. We gave it all away."
After "God's Plan" was released, the singer behind hits such hits as "Hotline Bling" and "Headlines" then made his challenge to others to commit acts of kindness.
"Today I am going to challenge everyone to just go out and do something for someone, anything, the smallest thing just to bring another human being some joy and please tag me in it somehow so I can see all the love being spread," said Drake, in a statement.
"You don't have to play the song in the background or have some hashtag. This isn't about streams and all the other tactics being used... just go be kind in any way you can and let's all watch the world be nice to each other even if it's for 24 hours."
Watch Drake's "God's Plan" video:
Air Jordan 1