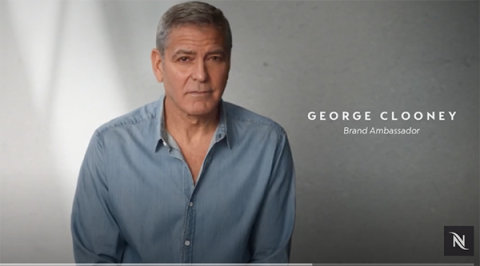 Nespresso has released a three-minute video as part of its "Made with Care" campaign that promotes its belief that "crafting high-quality coffee can be both an art and a catalyst for positive change if care is instilled in every detail."  People are invited to share what care means to them online with the hashtag #MadeWithCare.
The campaign was spearheaded by actor and Nespresso brand ambassador and sustainability advisory board member George Clooney, who appears in the video with a variety of other people, such as Colombian fashion designer Johanna Ortiz, Rwandan-French actress Sonia Rolland, digital entrepreneur Chiara Ferragni,and  Sudanese American poet Emi Mahmoud.
"Care is protecting a way of life for generations," says Clooney in the video, where participants answer the question: What is care?
Clooney elaborated further in a media release, saying: "Nespresso and I have always shared a passion for sustainability and farmer welfare. And if the past year has shown anything, it's that care is pivotal to communities' wellbeing and resilience. That's why I feel privileged to stand alongside people with the same values in the 'Made with Care movement – from activists, to celebrities, to some of the most dedicated farmers and coffee experts I have ever met. Together, we are committed to sustainability, fairness and to ensuring we can enjoy great coffee for generations to come."
The Nespresso AAA Sustainable Quality Program is designed to ensure the selection of the finest quality coffee beans while improving the livelihoods of farmers and protecting the environment.
It was launched in 2003 in collaboration with international non-profit organization Rainforest Alliance, which aims to protect forests, improve the livelihoods of farmers and forest communities, promote their human rights, and help them mitigate and adapt to the climate crisis. Fairtrade International, which promotes farmers and workers through trade, joined the program later.
"Care is taking action on behalf of fairness and sustainability," Fairtrade International global chief executive officer Dr. Nyagoy Nyong'o says in the video.
Nespresso's Reviving Origins Program is committed to reviving endangered coffees and communities.
The company has also committed to make every cup of Nespresso coffee carbon-neutral by 2022.
"Care is about balancing human activities with nature," PUR Projet founder Tristan Lecomte says in the video.
PUR Projet is involved with 56 nature-based projects in more than 40 countries. It empowers local communities to operate long-term socio-environmental projects and helps companies strengthen their supply chains through agroforestry, land restoration and sustainable agricultural practices.
Nespresso is headquartered in Lausanne, Switzerland. It has more than 13,900 employees in 82 countries and works with more than 110,000 farmers in 15 nations. Nespresso's global retail network operates 809 boutiques in 532 cities.
"Over the past year, I've become convinced more than ever that true care means doing what we can to support our community," Ferragni said in the media release. "Because together we are stronger."
The Made With Care campaign appears in digital, print and social media, as well as in Nespresso boutiques and on the company website.
WATCH: