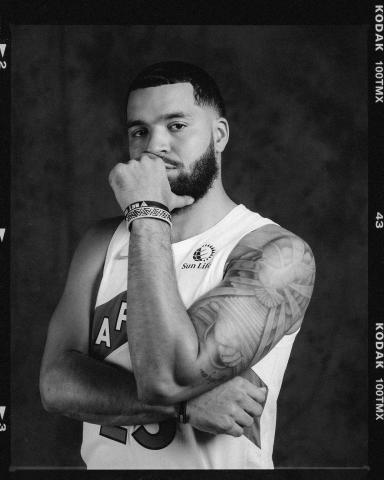 Toronto Raptors point guard Fred VanVleet has established a scholarship to be awarded to an incoming domestic Black or Indigenous student in the University of Toronto's Rotman Commerce undergraduate business program. The selected applicant will also be mentored by the basketball star.
The Fred VanVleet Scholarship will be based on a student's financial need, with preference given to those with an interest in the management specialist program. Academic merit will also be considered.
"This scholarship is important because it's going to shine light on some of those who may be underserved or underprivileged in certain communities and aspects," VanVleet said in a video posted on YouTube to announce the scholarship.
"We know there's a selection process to a lot of different scholarships and sometimes that counts people out. We're just trying to make a concerted effort to shine light on those who may have not gotten a proper opportunity."
The scholarship is valued at $57,800, inclusive of tuition and an annual stipend of $1,000 for books. The recipient will receive $7,100 in the first year of study and $16,900 in each of the following three years.
In addition to providing financial support, VanVleet is also committed to mentoring the selected recipient.
"Mentorship is big and it's a big thing that you learn the later you get in your life," VanVleet said in the video. "Time goes on and you realize how important it is just having somebody in your corner who can kind of guide you, give you that reassurance or direction in certain areas that you may need to improve."
The award is renewable based on continued enrollment in the Rotman Commerce program and maintaining good academic standing.
Students interested in the scholarship must first apply to Rotman Commerce and then complete the Awards Profile by logging into join.utoronto.ca and following the Awards Profile link to be considered for the award.
"I would love for this scholarship to be the catalyst to start a young person's career, that platform that they need to get access to the resources, information and education," VanVleet said in the video. "Hopefully they go on to do many bright and important things."
VanVleet, who was undrafted by a National Basketball Association team after leaving Wichita State University in 2016 before signing with the Raptors as a free agent, has become known for his "Bet on yourself" motto. He's done that and is now making more than $20 million a year as one of the best point guards in the league.
VanVleet hosts the Bet On Yourself podcast, where he champions entrepreneurs of colour. He also partnered with DoorDash and Uninterrupted Canada to launch a docuseries titled Made For This that showcases restaurant owners across Canada.
Watch VanVleet talk about the scholarship: