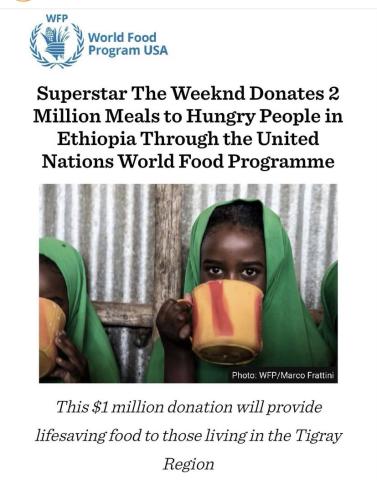 The Weeknd is donating $1 million, the equivalent of 2 million meals, to the United Nations World Food Programme "for my people of Ethiopia" and is hoping his gesture will encourage others to help as well.  
The escalating conflict between Ethiopia's government and the regional Tigray People's Liberation Front (TPLF) began in early November and has been called an ethnic cleansing. Millions of people have been displaced (many fleeing to Sudan), thousands killed, and hundreds victims of sexual violence.
"My heart breaks for my people of Ethiopia as innocent civilians ranging from small children to the elderly are being senselessly murdered and entire villages are being displaced out of fear and destruction," wrote the Canadian musician, born Abel Tesfaye to Ethiopian immigrants, on his Instagram.
The UWF posted about his generosity as well, captioning it "Superstar The Weekend Donates 2 Million Meals to Hungry." Tesfaye, who performed at the Super Bowl half-time show, this year, has the biggest song of the year with "Blinding Lights." In 2014, he donated $50,000 to the University of Toronto to start a course on the Ethiopian language of Ge'ez, and two years later donated monies to towards the creation of an Ethiopian studies program.
Just this past year, he has made donations totalling millions to Black Lives Matter movement, Know Your Rights Camp, Equal Justice Initiative, Musicares Coronavirus Relief Fund, and Scarborough Health Network.
The world's largest humanitarian organization is the 2020 Nobel Peace Prize Laureate.  Back in February, the WFP estimated 2.5 to 3 million people — including children, and pregnant and lactating mothers — were in critical need of nutritious food in the Tigray region. That number has since grown.
In a Feb. 6 news release,  the WFP said it had begun providing food assistance but "urgently" needed USD $170 million over the next six months.
"In addition to the needs of local communities, we face a major challenge to support hundreds of thousands of internally displaced people whose tales of hardship and suffering are harrowing and heart-breaking," said WFP representative and country director Steven Were Omamo in a press statement after visiting East, Central and Northwest Tigray.
"The steadfast resilience of the people of Tigray is truly extraordinary. The Government and partners are providing life-saving food and nutrition support to many, but much more is required to ensure food and nutrition security for these vulnerable people.
"The situation is very challenging, but it is important to recognize that humanitarian assistance can be delivered to large parts of the region," he added. "Right now though, WFP and other humanitarian agencies lack the resources to respond quickly and in full. We urge the international community to support our collective effort to save lives and livelihoods across Tigray. Not a moment can be lost."